ASUI Softball falls 4-2 on Senior Night; awaits postseason selection sunday
Posted:
Updated: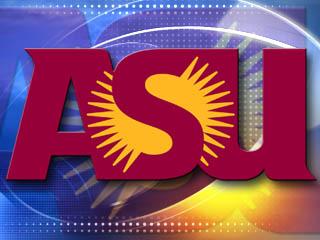 © cbs 5
PHOENIX (CBS5) -
Winning the series against Oregon (46-9, 19-5 Pac-12) but falling in the finale, 4-2, Arizona State softball will await its selection into the NCAA Tournament with a 45-10 overall record. The Sun Devils finished the year 16-8 in the Pac-12. The NCAA selection show is Sunday, at 7 p.m. PT on ESPNU.
Oregon started off by scoring in three-consecutive innings before ASU looked to change the momentum with two runs in the fifth that cut the score to 4-2. Changes in the circle for both teams occurred in the latter portion of the game and neither team picked up hits after the substitutions.
Mackenzie Popescue (19-6) got the start for Arizona State and pitched four complete innings with four strikeouts before being pulled in the fifth. Dallas Escobedo closed out the game and also had four strikeouts. Popescue would go down as the pitcher of record – Oregon's Jessica Moore (25-4) got the win in a combined 6.0 innings.
UP NEXT
ASU softball will await its postseason schedule which will be announced on Sunday, May 12, at 7 p.m. PT on ESPNU. Information will be posted on www.thesundevils.com as it is received on Sunday night.
Softball TV Schedule
May 12, ESPNU Postseason Selection Show 7 p.m. PT
NOTES
ASU has 44 homer games this year, 19 home run games in Pac-12. Sun Devils entered weekend ranked third nationally in homers, 1.67/game.
Alix Johnson's homer in the fifth inning is her 11th of the year and 27th of her career. Clint Myers is 63-27 (.700) at home against the Pac-12 since 2006. All six of Myers' WCWS appearances have come off of ASU hosting a Super Regional in Tempe. ASU has only missed making the WCWS once since Myers was hired in 2006, making it as far as the Super Regionals in 2010.
A postseason berth in 2013 will be the ninth-consecutive for ASU. It will be the 25th appearance in the NCAA Tournament for the program, a 78-47 record.
Clint Myers is 48-13 (.787) in the postseason, 25-3 (.893) in the postseason at Farrington Stadium and 14-8 (.636) in the Women's College World Series.
Copyright 2013 CBS 5 (Meredith Corporation). All rights reserved.