Survey gives Phoenix police chief scathing review
Posted:
Updated: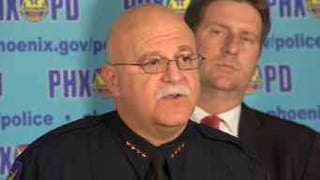 Phoenix Police Chief Daniel Garcia (Source: KPHO-TV)
PHOENIX (CBS5) -
Phoenix Police Chief Daniel Garcia has been on the job just short of a year. A recently released survey of his officers gives him terrible reviews as a leader.

The Phoenix Law Enforcement Association and the Phoenix Police Sergeants and Lieutenant's Association opened the survey to 2,900 officers, sergeants and lieutenants.
More than 1,700 participated in the web-based survey conducted by WestGroup Research, hired by the unions. [Click here to read the full survey (PDF)]
The results included the following:
93 percent were very or somewhat dissatisfied with the chief's job performance.
80 percent said Garcia was an ineffective leader
74 percent said the chief does not ensure discipline is equally applied
69 percent said Garcia does not lead by example
Garcia talked about the survey results on Thursday and declared that he knows he's a very effective leader, who leads by example and is fair.
When asked how he accounted for the numbers that reflect just the opposite, Garcia said people have a hard time adjusting to change.
"The city of Phoenix made a choice to go outside of the department to hire a new police chief and that usually signifies one thing, that the city was looking for change. I understand the change aspect of it and how that is very challenging to people to accept change and move forward with it," said Garcia.
Copyright 2013 CBS 5 (KPHO Broadcasting Corporation). All rights reserved.