Buena Vista lays off all staff, cancels classes Tuesday
Posted:
Updated: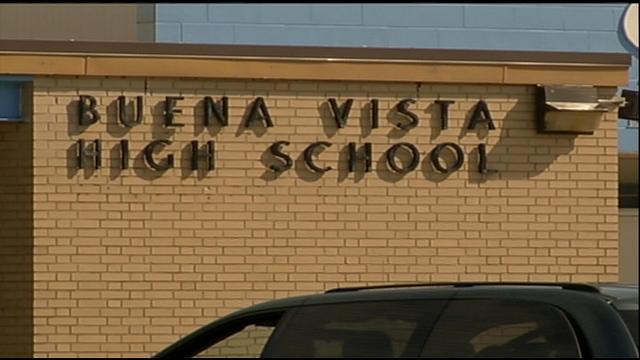 BUENA VISTA TOWNSHIP, MI (WNEM) -
After a long, closed door meeting, the Buena Vista School Board announced late Monday night all staff are laid off and benefits are severed effective immediately.
Classes were canceled for Tuesday.
Buena Vista School District's 27 teachers and its other staff learned Monday night they no longer have a job. The Buena Vista School Board voted unanimously to pink slip the staff and sever all benefits because the district is broke.
"Basically, it's something that we feel we had to do," said Randy Jackson, the school board president.
Jackson said the district spiraled into terrible financial times. It has lost funding, had to pay back big money it's received, and to top it all off, after this Friday's payday, there's no more money.
"Hopefully, this will be temporary, so we had to do it, but we do not intend for it to be a long-term deal," said Jackson.
The teachers also hoped for this. Monday afternoon, the teachers union voted to work through this week in hopes a solution could be found to keep them on the job. But with the pink slips handed out Monday night, it's now not clear if the teachers will be back.
"It changes everything because when we voted, we were not laid off, now we're all laid off," said Joeann Nash, a Buena Vista teacher and the spokesman for the local teachers union.
Congressman Dan Kildee issued a statement on the proposed closings, saying "I'm not interested in the blame game – this situation should have never reached the point when children are not able to attend school. No matter who is at fault, children ultimately pay the price. Students and teachers in the classroom didn't cause this problem, yet they are unfortunately the victims, and that is unacceptable. The state of Michigan and school district administrators need to work together to find an amenable solution to pay teachers and school staff. This matter needs to be resolved immediately so students in Buena Vista can return to school Wednesday."
On Tuesday, the union met to discuss whether they will volunteer to get through this year.
"What's next is meetings for the deficit elimination plan, working with the state to get it approved and hopefully working with them to get some funds, hopefully, to get through the rest of the school year," said Jackson.
"I love all the people here, so I hope there is a Buena Vista School District, I'm not going to give up until it's over, and it's not over for me, not yet," said Superintendent Deborah Hunter-Harvill.
But even with those positive words, the future of Buena Vista schools seems very uncertain.
The school board president and district superintendent held a public meeting Tuesday evening that was at times acrimonious. The pair answered questions pertaining to the way the district has lost out on tax monies and state funds.
The entire hour-and-a-half meeting was recorded and anyone wanting to watch can do so by watching the video above.
The school district decided to cancel classes Wednesday as well -- for a complete wrap-up of Tuesday night's meeting and more, click here.
Copyright 2013 WNEM (Meredith Corporation). All rights reserved.