Bills signed/vetoed by Gov. Brewer Tuesday
Posted:
Updated: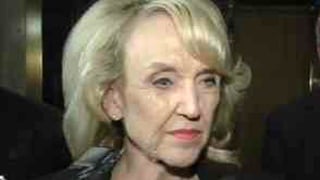 AZ Gov. Jan Brewer (Source: KPHO-TV)
PHOENIX (CBS5) -
Bills signed or vetoed by Arizona Gov. Jan Brewer on Tuesday:
HB2157 public declaration; resign to run 4/30/13 Signed
HB2358 insurance; licensees; continuing education requirements4/30/13 Signed
HB2481 permissible consumer fireworks; penalty 4/30/13 Vetoed
HB2591 governmental reporting; websites; budgets 4/30/13 Vetoed
SB1092 cotton research and protection council 4/30/13 Signed
SB1093 disability placards; nonprofit organizations 4/30/13 Signed
SB1107 agricultural districts; public notice; website theft; scrap metal 4/30/13 Signed
SB1235 psychiatric security review board; continuation 4/30/13 Signed
SB1238 unemployment insurance; erroneous benefit payments benefit corporations; formation 4/30/13 Signed
SB1302 planned communities; design review process 4/30/13 Signed
SB1343 girls' youth organization special plates 4/30/13 Signed
SB1417 reviser's technical corrections; 2013 4/30/13 Signed
SB1437 music therapists; licensure 4/30/13 Vetoed
SB1464 mining advisory council; membership 4/30/13 Signed
Copyright 2013 CBS 5 (KPHO Broadcasting Corporation). All rights reserved.