CBS 5 Advocate
Utility service at risk if any resident has prior delinquency
Posted:
Updated: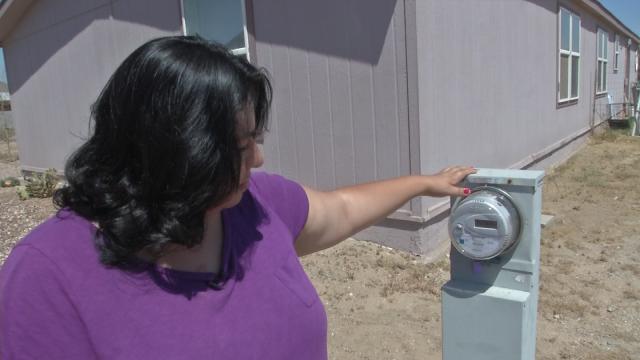 BUCKEYE, AZ (CBS5) -
A Buckeye woman says APS shut off her electricity because of an unpaid bill, even though her account wasn't in default and she was paying her bill. How did this happen?
If your bill is paid, you normally don't have to worry about APS disconnecting your power. But if you have any adult living with you, or even using your address, who has unpaid utility bills at another address, your power can be shut off even if your payment history is perfect.
"As a mother, you want to help your kids," Elvira Nunez said.
Nunez lives in Buckeye with her husband and 2 minor children. She also has an adult child who became delinquent on an APS bill.
"This was an old bill she had from a different apartment where her and her husband used to live. They moved and didn't pay for it and we got the bill here," Nunez said.
Nunez got the bill because her daughter had been using her mom's address on some accounts. Nunez says she disregarded the daughter's old bill because her own APS account was okay. What happened next was quite a shock.
"My husband called me and said, 'honey, the electricity is out.' I was like 'what do you mean', and he said 'did you pay the bill' and I said 'yes, I mean the bill's not due yet'," Nunez said.
The daughter's not on the lease or the utility account, but APS found out she was using the address. Since the daughter was getting a benefit from electric service, APS disconnected it. Nunez says explaining didn't help.
"She doesn't live physically with me, but she uses my address. They were like, 'well, if she uses your address, that means she lives there'," Nunez said.
The daughter made payment arrangements on the old bill and Nunez's power was restored. She wants all parents to know the risk of letting adult kids with delinquent bills use their address.
"Whatever is wrong with their credit is going to follow us and is going to effect us in some way or another," Nunez said.
APS' decision here makes sense. Businesses can't allow people to not pay bills one place and still benefit from service somewhere else. If you're using someone else's address for accounts, loans, etc., companies can find you simply by running a credit check. And this risk doesn't just apply to parents - you have to be careful with roommates too. It applies to anyone who lets an adult with delinquent utility bills use their address.
So, if you get an old utility bill for someone that currently lives with you, make sure you call the utility right away.
Copyright 2013 CBS 5 (KPHO Broadcasting Corporation). All rights reserved.