No warnings for 60 second tornado
Posted:
Updated: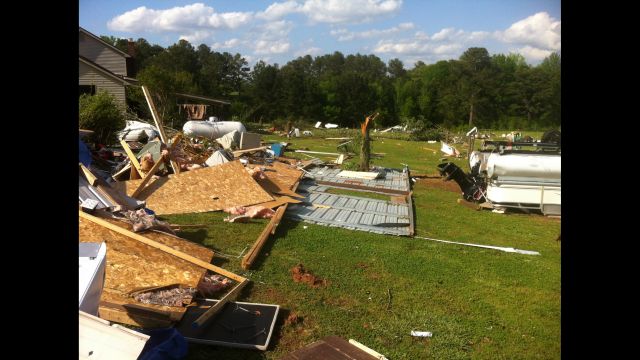 MORELAND, GA (CBS46) -
If you blinked at 75 Windom Drive in Moreland, GA, when an EF 0 tornado touched down you might have missed it.
What you wouldn't have missed is the devastation it left behind when you opened your eyes.
"Just demolished everything," homeowner Murphy Johnson said.
Johnson said he and his wife were inside when they heard a lot of wind. They looked outside and realized that wind was a tornado.
"There wasn't time to run for it, we didn't know anything was going on, we saw the wind blowing hard, we didn't know anything about a tornado," Murphy said.
The tornado packed winds of 85 mph according to the National Weather Service.
It missed hitting the Murphy's home by about 15 feet.
"We got a basement in the house, if we knew it was coming we would have gone to the basement," Murphy said. "Makes you know you gotta be alert, I guess if you see hard wind coming, you gotta take cover."
The National Weather Service explained that this was a very short lived tornado.
"The radar operator noticed a very quick and brief spin up on radar since it was fairly close to our radar," Dan Darbe from the National Weather Service said. "But it was shallow and brief, with only two scans that even showed it. By the time we would have issued a tornado warning it was over. We actually saw the hook, prepared a tornado warning but it weakened, then was gone before we could issue it."
The damage path was less than a quarter mile and witness reports only described the tornado touching down for about a minute.
"Sometimes things just happen, and you can't do anything about it," Murphy said.
Murphy is now waiting to get insurance adjustors out to start to rebuild and replace his pontoon boat that was destroyed, his workshop and a 30-foot camping trailer. There is also damage to his home from the debris field.
"I wouldn't want to wish it on anyone else," Murphy said. "It's a mess."
Copyright 2013 WGCL-TV (Meredith Corporation). All rights reserved.