No. 3 Water Polo Swims Past SJSU and Into Semifinals at MPSF Champs
Posted:
Updated: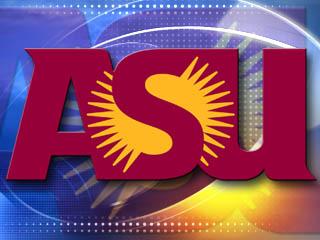 ? CBS 5
PHOENIX (CBS5) -
The No. 3 Arizona State University water polo team used an impressive second-quarter surge to pull away from No. 9 San Jose State for a 12-8 decision in the opening game of the 2013 Mountain Pacific Sports Federation Championships in Berkeley, Calif., on Friday.
Senior Alicia Brightwell had four goals for the Sun Devils and fellow senior Shannon Haas added three of her own as ASU scored seven consecutive goals between the second and third quarters to put the game out of reach.
The Sun Devils advanced the semifinals of the MPSF tournament for the first time in school history with the performance and will take on No. 2 USC tomorrow at the Spieker Aquatics Center. Friday's victory guaranteed ASU its highest finish in the MPSF tournament in ASU history.
The two teams exchanged goals in the first quarter as the Sun Devils gave up two to SJSU's Rae Lekness in the frame to keep things even heading into the second where Spartan freshman Timi Molnar netted her first of the game to give SJSU an early 3-2 lead with 6:45 left in the half.
It was all Sun Devils from there, however, as Brightwell added her first two goals of the game while Haas and Anna Kertes each added one of their own to put the Sun Devils up 6-3 headed into the break.
The surge continued into the second half as Haas scored her second and third goals of the game within the first 2:04 of the third quarter before Kertes added her second with 1:52 remaining for the eventual game-winner as the Sun Devils took an insurmountable 9-3 lead.
Brightwell moved within one goal of tying the ASU single season goals record of 81 held by Addison McGrath as she added two more goals in the fourth to give her 80 on the season – a mark that also paces the MPSF conference.
Redshirt freshman E.B. Keeve was impressive in the goal as she got a hand on 16 shots for the second-highest save tally of her career (and the most saves for the freshman in regulation), as well as an ASU MPSF Tournament record.
Keeve now has 344 saves in her career and needs just three to set a new Sun Devil single-season record, which is currently held by Caylinn Wallace at 346.
Arizona State improved to 26-5 on the year with the victory and secured the single-highest total of wins in program history with the effort. The Sun Devils will take on the Trojans at 12:45 p.m. tomorrow.
GAME RECAP
SJSU 2 1 2 3 – 8
ASU 2 4 4 2 – 12
SJSU Goals: Rae Lekness 3, Timi Molnar 2, Rachel Henry 2, Victoria Smith.
ASU Goals: Alicia Brightwell 4, Shannon Haas 3, Ao Gao 2, Anna Kertes 2, Abigail Kerth
SJSU Saves: Maddie Reardon 5.
ASU Goals: E.B. Keeve 16
SCORING
First quarter
7:30: Rae Lekness (1-0 SJSU)
2:29: Ao Gao (1-1)
1:16: Abigail Kerth (2-1 ASU)
:46: Rae Lekness (2-2)
Second quarter
6:45: Timi Molnar (3-2 SJSU)
4:39: Anna Kertes (3-3)
2:27: Shannon Haas (4-3 ASU)
1:00: Alicia Brightwell (5-3 ASU)
:25: Alicia Brightwell (6-3 ASU)
Third quarter
6:55: Shannon Haas (7-3 ASU)
5:56: Shannon Haas (8-3 ASU)
1:52: Anna Kertes (9-3 ASU)
1:16: Rachel Henry (9-4 ASU)
:39: Victoria Smith (9-5 ASU)
:9: Ao Gao (10-5 ASU)
Fourth quarter
7:27: Rachel Henry (10-6 ASU)
4:06: Alicia Brightwell (11-6 ASU)
3:36: Alicia Brightwell (12-6 ASU)
3:23: Timi Molnar (12-7 ASU)
:30 Rae Lekness (12-8 ASU)
Copyright 2013 CBS 5 (Meredith Corporation). All rights reserved.