Valley kids learn how to start their own business
Posted:
Updated: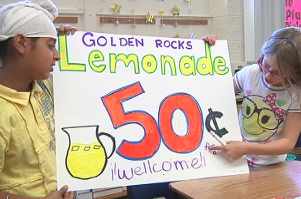 PHOENIX (CBS5) -
Starting a business can be no easy feat for anyone but imagine doing it at 10 years old.
That's exactly what some fourth, fifth and sixth graders are doing at Pima Elementary, with the help of a couple of adult entrepreneurs.
It's all part of a campaign to teach kids the basics of business.
The program is called One Small Business.
Thursday, kids were preparing for their first big lemonade stand.
"So, the different roles could be handling the money, being the financial person, being the marketer, which is hanging the signs all around the school, being the sales person, standing at the table and drawing customers in or being the product person, which is the one mixing the lemonade," said Chris Ronzio, the co-founder of One Small Business.
"It's not only making lemonade. I have to actually try conversing with the customers," said Rhys Velarde, a sixth grader at Pima Elementary School.
Some of the students already know what they want to purchase with their earnings.
"I want to buy clothes and I'm pretty sure my friend Kaley - she's saving up for a hamster," said Abaigal Creedon.
The One Small Business kits are $30 and about 20 percent of sales will go towards the funding more local elementary schools with the business program.
Copyright 2013 CBS 5 (KPHO Broadcasting Corporation). All rights reserved.