Arizona T&F heads to Tempe for Double Dual
Posted:
Updated: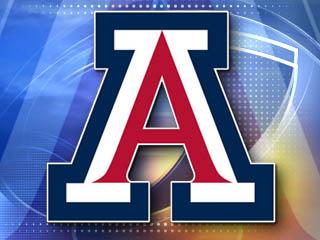 ? cbs 5
PHOENIX (CBS5) -
The University of Arizona Wildcat men's and No. 3 women's track and field teams will compete in the Arizona - Arizona State - Northern Arizona University Double Dual. The Wildcats will compete on Saturday, April 27 and make the trek to Tempe, Ariz. Competition will begin on Saturday with the field events at 2 p.m. MST while the running events are set to start at 6 p.m. The meet is being held at Sun Angel Stadium.
In the USTFCCCA week four national poll, Arizona's men fell out of the rankings and the women jumped three spots to third. The Pac-12 has three men's teams in the national poll. Oregon stayed at the fourth spot, USC dropped one spot to ninth and UCLA is 13th. For the women, six other Pac-12 schools in the national poll accompany Arizona. Oregon dropped three spots to No. 7. Arizona State stayed at No. 8. UCLA climbed seven spots to No. 13. Stanford fell five spots to No. 14. Washington also slid five spots and is now No. 19. USC returned to the poll and is now No. 23.
For Saturday's field events, sophomore Baillie Gibson in the hammer throw at 2 p.m. will represent Arizona's women. The men's competition will start right after the women for all field events. Senior Tyler Johnson will compete in the men's hammer throw. In the women's high jump, senior Brigetta Barrett, sophomore Shakayla McEaddy and junior Amber Passalaqua will compete at 3 p.m. Following the completion of that event, senior Edgar Rivera-Morales, freshmen Jonny Giess and Ryan Tomlinson will compete in the men's high jump. The women's discus is set to begin at 4 p.m. and Arizona has senior Alyssa Hasslen, Gibson and senior Julie Labonté. Freshmen Moriah Hayes and Ali Rodseth will long jump at 5 p.m. At 6 p.m., senior Asia Easley and Passalaqua will throw the javelin. Rodseth will also triple jump at 7 p.m., as will sophomore Jovon Cunningham. Also taking place at 7 p.m. is the women's shot put. Gibson, Hasslen, Labonté and junior Omotayo Talabi will compete for Arizona.
For the women's running events, Arizona will start with sophomore Stephanie Bulder in the 3,000-meter steeplechase at 6 p.m. The quartet of freshman Traci-Lynn Hicks, junior Shapri Romero, junior Tamara Pridgett and junior Germe Poston will run the 4x100-meter relay at 6:25 p.m. In the 1,500-meter run at 6:30 p.m., freshman Nicci Corbin, sophomore Clea Formaz and senior Jen Bergman will represent Arizona. Freshman Traci-Lynn Hicks will compete in the 100-meter hurdles at 6:45 p.m. In the 400-meter run at 6:50 p.m., Barrett, senior Shale' Garland, senior Georganne Moline and Pridgett will run for Arizona. Hicks, Poston and Romero will run the 100-meter dash at 7:05 p.m. Moline will run the 400-meter hurdles at 7:30 p.m. At 7:45 p.m., Garland, Passalaqua, Poston, Pridgett and Romero will compete in the 200-meter sprint. Bergman, Corbin and Formaz are set to run the 3K at 8 p.m. The 4x400-meter relay set to start at 8:30 p.m. will consist of Romero, Garland, Pridgett and Moline.
On the track for the men, UA will lead off with sophomore Kenji Bierig and freshman Jonas Legernes in the 3,000-meter steeplechase at 6:15 p.m. The quartet of sophomore Thomas Moronta, freshman Bernard Dickerson-Quinn, senior Clifton Leake and senior Elliot Taylor will run the 4x100-meter relay at 6:28 p.m. Junior Lawi Lalang will make his outdoor season debut in the 1,500-meter run at 6:37 p.m. along with sophomore Sam Macaluso. Junior Sean Delfani and Dickerson-Quinn will run the 400-meter race at 6:58 p.m. Senior James Eichberger will make his season debut in the 800-meter race along with Lalang and senior Kevin Jani at 7:20 p.m. Senior Clifton Leake will compete in the 400-meter hurdles at 7:35 p.m. Lalang, Legernes and Macaluso will compete in the 3K at 8:15 p.m. Leake, Dickerson-Quinn, Eichberger and Delfani will run the 4x400-meter relay at 8:35 p.m.
At the Drake Relays in Des Moines, Iowa, senior Taylor Freeman will compete in the women's hammer throw and discus competitions. The discus is set for Friday at 2 p.m. CDT while the hammer will take place at 9 a.m. on Saturday.
Copyright 2013 CBS 5 (Meredith Corporation). All rights reserved.