ASU Baseball's Burr Named To USA Collegiate National Team
Posted:
Updated: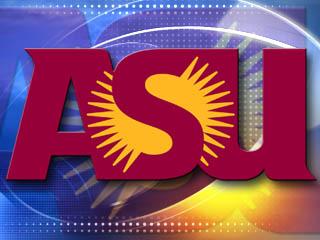 ? cbs 5
PHOENIX (CBS5) -
Arizona State University freshman right-handed pitcher Ryan Burr has been named to the USA Baseball Collegiate National Team.
He has allowed just six earned runs with 34 strikeouts this season, and has recorded eight saves, which puts him second on the school's freshmen saves list with Mitch Dean (1976) and Zechry Zinicola (2004), and trails Jason Jarvis (2007) by three.
Burr is the 19th student-athlete in school history to play for USA Baseball internationally and joins ASU head coach Tim Esmay, who was named an assistant coach on Dec. 18, on the 2013 team. He is the 18th Sun Devil to play for the Collegiate National Team as Oddibe McDowell was a member of the 1984 Olympic team.
Sun Devil Baseball's Team USA Members
2013 - Ryan Burr
2013 - Tim Esmay (coach)
2012 - Trevor Williams
2011 - Brady Rodgers
2011 - Deven Marrero
2010 - Drew Maggi
2009 - Matt Newman
2008 - Mike Leake
2007 - Petey Paramore
2007 - Brett Wallace
2004 - Travis Buck
2003 - Jeff Larish
2003 - Dustin Pedroia
2002 - Pedroia
2001 - Mike Esposito
2000 - Casey Myers
2000 - Jon Switzer
1998 - Willie Bloomquist
1995 - Kaipo Spenser
1990 - Jim Austin
1984 - Oddibe McDowell (Olympics)
Burr's 26.2 innings of relief lead the team and he has also earned one win. Burr has allowed just 10 hits, including three doubles, and 16 walks in 19 appearances, which is second on the team.
He has made appearances in seven games against ranked teams this season, including three vs. UCLA, two vs. Arkansas and two vs. Oregon. He recorded one save against then-No. 2 Arkansas and two against then-No. 4 UCLA.
Burr becomes the fifth Sun Devil coach Esmay has helped guide to the USA Collegiate National Team since being named ASU's head coach in 2010. Along with Burr, he mentored Trevor Williams in 2012, Deven Marrero and Brady Rodgers in 2011, and Drew Maggi in 2010. He also helped five others make the team as an assistant coach with the Devils, including Matt Newman and Mike Leake in 2009, Petey Paramoreand Brett Wallace in 2007, and Jim Austin in 1990.
The Sun Devils travel to Salt Lake City for a three-game Pac-12 series against Utah over the weeekend. Friday's game begins at 5 p.m., with first pitch on Saturday at 3 p.m. and Sunday at 12 p.m. (all times local Pacific). All three games will be broadcast by Tim Healey and former Devil Seth Dhaenens on the MidFirst Bank Sun Devil IMG Sports Network on NBC Sports Radio AM 1060 and on the All-Access player on thesundevils.com.
Copyright 2013 CBS 5 (Meredith Corporation). All rights reserved.