City fights blight with fresh food
Posted:
Updated: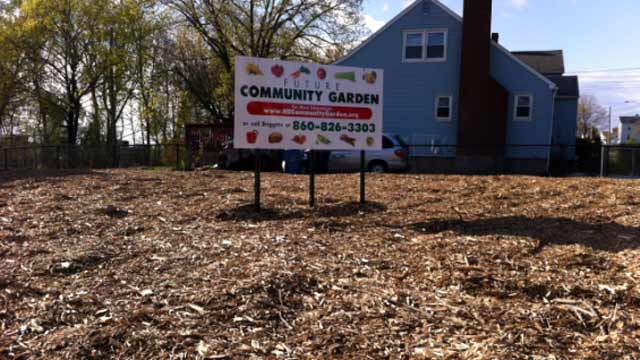 NEW BRITAIN, CT (WFSB) -
The city of New Britain is turning two former rundown properties into community gardens this summer.
The mayor said that if this idea catches on, this could just be the start of what could be a plethora of community gardens around the city.
Rosa Lozada's walk to take her granddaughter to school goes right past the future site of a community garden on Chapman Street. She said she's excited and has already submitted an application to use it.
"My husband is good doing that because he works at a nursery," she said. "So he knows all kinds of plans and everything."
Her granddaughter said she also liked the idea of fresh fruits and veggies, but also because she could work in the garden with her grandfather.
Neighbors said the lot on Chapman Street has been sitting empty for years, and now it's nearly ready for planting starting at the end of May.
In an empty lot on Lawlor Street, neighbors said the garbage and debris really used to pile up, making the lot an eyesore. So residents said they're happy to see some changes being made.
However that lot still needs to have some work completed before it is scheduled to open in June.
The mayor's office said both plots of land were once home to blighted properties, and now belong to the city. Residents and volunteers will run and maintain the plots to give the community ownership of the land.
City leaders said this will also make some fresh food available to more urban areas, and if they're successful several more properties could be turned into gardens next year.
Residents can fill out an application online or at the mayor's office. The yearly fee for a plot is $10 to $20, depending on the size.
Copyright 2013 WFSB (Meredith Corporation). All rights reserved.