Shelton alderman proposes 'weapons-free zone' at city buildings, parks
Posted:
Updated:
By Joseph Wenzel IV, News Editor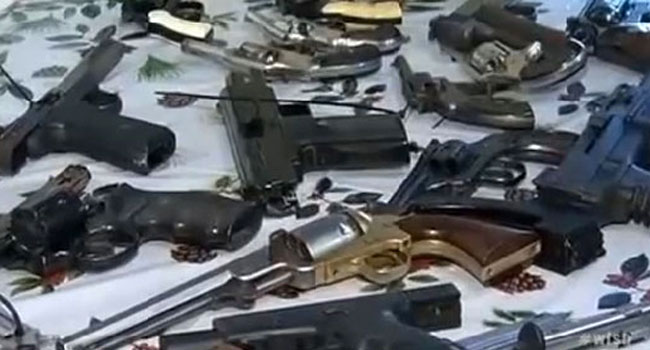 SHELTON, CT (WFSB/AP) -
A gun training class inside a local library prompted calls for a "weapons-free zone" in Shelton, which would ban all weapons, anything from guns to crossbows in some public places.
Alderman John Finn confirmed to Eyewitness News a public hearing was held Tuesday night where they discussed a proposed weapons-free zone ordinance that would ban the following items from city buildings, parks and open space areas:
Firearms
Bows
Crossbows
BB guns

Pellet guns

Finn told Eyewitness News he got a complaint from someone who saw a group holding a gun safety class in a downstairs room in the Huntington Branch Library, which is in the same building as the Shelton Community Center.
As for the firearms classes, Finn told Eyewitness News he thinks they should be held at the police department or a private business, not a public library.

According to Finn, he had the idea for the new ordinance before the Newtown tragedy where 20 children and six adults were shot and killed at Sandy Hook Elementary School on Dec. 14.
"Because this is heavily utilized by kids, you know, I have two - an 8-year-old and 11-year-old," said Sherry Palumbo, of Shelton. "I don't know a guns safety class would be an appropriate venue for that."
However, residents that talked to Eyewitness News are split on the subject with some being in support of the proposal, while others said it is unconstitutional.
Some residents pointed out the firearms class that sparked this debate was in a closed room and the guns were not loaded.
"It's a teaching experience. It's not a gun shooting experience," said John Mishico, of Shelton. "You could have it anywhere."
A first violation of the proposed ordinance would cost a violator $250.

The Shelton Board of Alderman will vote on the ordinance at its next meeting on May 9 at 7 p.m. inside the auditorium at City Hall.
Copyright 2013 WFSB (Meredith Corporation). All rights reserved.