CBS 5 Advocate
ET Limousines uses shuttle vans at prom; offers no refunds
Posted:
Updated: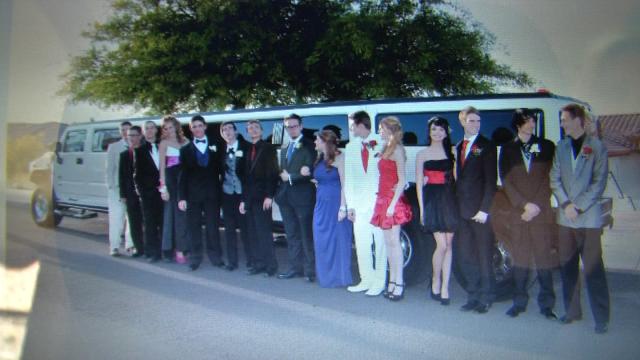 GLENDALE, AZ (CBS5) -
Several Glendale and Phoenix teens say a bad limo experience put a real damper on their prom and their parents claim the owner of the limo company has reneged on promises and made a bad situation worse.
For many high school kids, the limo ride is one of the most exciting parts of prom - the swanky interior, the cool music, and arriving in style at the dance. But teens and their parents need to think about something else. What happens if your awesome ride breaks down on the way to the event? If parents and teens don't handle possible replacements, up front in the contract, they can end up with far less than what they paid for.
"It was our senior prom, and we're never going to get any of this back," Alex Bohlman said.
Bohlman says prom night started out great. The stretch hummer limo he and his friends paid $900 for looked amazing, but within minutes there were problems.
"There was no music, no electricity, and no air conditioning and you can imagine that would be pretty hot in our suits and dresses," Bohlman said.
The Hummer broke down before it even reached the prom. Bohlman and his friends were given alternate transportation the rest of the way. But parents like Shannon Milek wanted to know how their kids would get home. She says the owner of ET Limousines, Mario Kennedy, promised a suitable replacement.
"We understood that it wouldn't be a Hummer limo, but at least the kids would still be picked up in a standard Lincoln Town car or stretch limousine," Milek said.
Bohlman says that's not what was waiting for him and his friends after the prom.
"When we came outside, we saw two airport shuttle buses and we were almost in disbelief that those were for us, because that's not what we paid for," Bohlman said.
"Shuttle Vans are not the same thing as a replacement to a Hummer limo. If the kids had been brought home in limos, we, as parents, would have been OK with that," Milek said.
The fine print in the contract doesn't specify what kind of vehicle could be used as a replacement, but the parents and teens thought Mario Kennedy should give them some sort of refund.
"At this point, we've received nothing," Milek said.
"We're all high school kids, $65 to us is a lot of money, we all saved up that money," Bohlman said.
The kids pooled their money and gave it to Milek - she's the one who paid Kennedy. Milek says Kennedy promised a $400 refund but started waffling. After CBS 5 News spoke with Kennedy, he reneged on the promise altogether. Kennedy told CBS 5 News that he met his full obligation to the kids when he got them home in the shuttle vans. The spirit of what they were hired to do didn't seem to matter. When problems arose, ET Limousines stuck to the letter of the contract.
For this reason, parents and teens need to include replacement vehicle language in the prom limo contract. Ask any limo company if the one being rented breaks down, what will be the replacement? And how much will parents and teens get back if the specified replacement is not provided?
The teens in this story paid $900 for a Hummer limo ride to and from prom. In the end, they got a ride 3/4 of the way to prom and a shuttle bus ride home. ET Limousines and Mario Kennedy didn't give back one penny in refunds. This is what can happen when replacements aren't discussed in the contract.
Copyright 2013 CBS 5 (KPHO Broadcasting Corporation). All rights reserved.