National Weather Service: Mansfield tornado hit without warning
Posted:
Updated: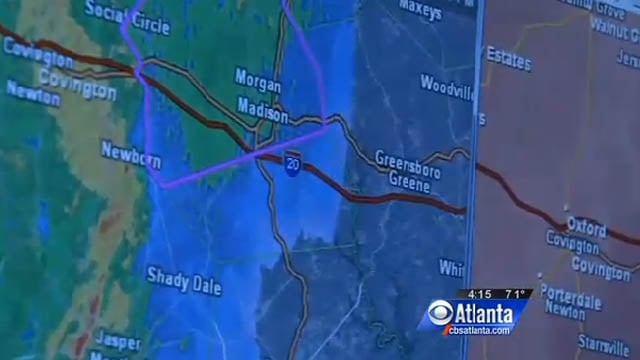 NEWTON COUNTY, GA (CBS46) -
Meteorologists at the National Weather Service said they had almost no warning before a devastating tornado hit in the Newton County city of Mansfield, which explains why tornado sirens did not go off.
Keith Stellman, meteorologist-in-charge at the NWS's Peachtree City office, said radar operators were closely watching the storm Friday afternoon.
They saw nothing unusual until winds began rotating. At 1:10 p.m., a severe thunderstorm was issued. At 1:13 p.m., the tornado touched down in Mansfield.

"These are the most frustrating types of events for us meteorologists," said Stellman. "We know they can happen quickly and we have to be really paying attention to the radar to catch these things as they're evolving."
The tornado destroyed several homes, tore down trees and power lines and left one woman injured.
"It happened so fast that no one knew," said Randy Qualls, a resident whose home was spared. "I don't think the warning would have done any good."

Stellman said the tornado spun up so quickly, there was no time to issue a warning.
"Anytime we're talking about a squall line, people need to be aware," said Stellman. "We did the best we could with the information we had and the tools we had."
The NWS plans to review data from Friday's storm to see if there are any improvements they can make to their forecasting.
"I'm thankful no one got hurt bad," said resident Ricky Squall. "The weather, we don't have any control over it. It's in God's hands."
Copyright 2013 WGCL-TV (Meredith Corporation). All rights reserved.