Extreme summer camp teaches kids how to fly on trapeze
Posted:
Updated: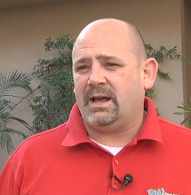 PHOENIX (CBS5) -
Summer camp is right around the corner. But CBS5 News found a camp that may be a little different than the typical experience of roasting marshmallows, singing camp songs and going on hikes.
Campers at Pali Adventures, located in Big Bear, California get to choose from 17 specialties, from Fashion Camp to Broadcasting Camp.
For kids who like lots of action, Special Agent Camp may be for them. Kids get to ride ATVs, learn all about archery and play laser tag.
On the other end of the spectrum there's a movie makeup academy that teaches kids how to apply makeup for film.
If a camper wants an adrenaline rush there are three ropes courses and a zip line - even a stunt academy.
"We start them off very low and we hopefully by the end of the week they're jumping off a building," said Ian Brasset, camp director at Pali Adventures.
"There are three or four different falls that we teach and we teach them how to fall properly and how to land, hopefully, right in the middle of the crash pad," said Brasset.
A popular choice is the flying trapeze.
"They start off basically just swinging and by the end of the week they should be doing catches," said Brasset.
Copyright 2013 CBS 5 (KPHO Broadcasting Corporation). All rights reserved.