No. ASU Baseball drops series finale to Valparaiso, 8-6
Posted:
Updated: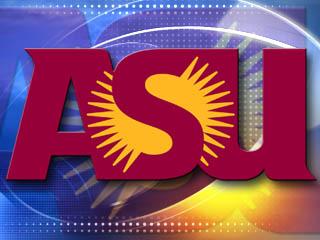 ? cbs 5
PHOENIX (CBS5) -
The ninth-ranked Arizona State University baseball team outscored Valparaiso 31-6 in the first two games of the series before falling in the finale, 8-6, on Sunday at Packard Stadium in Tempe, Ariz.
The Sun Devils (24-12-1) collected 13 hits in the game to stretch its weekend total to 47 and scored three runs in the seventh before bringing the tying run to the plate in the bottom of the ninth inning.
Third baseman Michael Benjamin, who finished 3-for-5 at the plate with two RBI and a pair of runs scored, hit a two-run homer in the first inning to give ASU an early 2-0 lead.
Valparaiso (15-23) tied the game, 2-2, with a pair of runs in the top of the second and added five more in the following inning as they jumped out to a five-run advantage, 7-2.
The bullpen allowed just one earned run over the final six frames as right-handers Billy Young and Darin Gillies, and left-hander Matt Dunbar each threw two innings. Young gave up just one hit in the fourth and fifth, Gillies conceded one run on four hits and a wild pitch, and Dunbar allowed one base runner in the eighth and ninth innings.
Designated hitter RJ Ybarra hit a solo home run to left field in the sixth inning to cut ASU's deficit to four, 7-3, but Valparaiso stretched it back to five after scoring on a wild pitch in the top of the seventh.
The Devils scored three runs in the seventh on an RBI single by catcher Max Rossiter, an RBI double by right fielderTrever Allen and a wild pitch to pull within two, 8-6. Left fielder Jake Peevyhouse knocked a two-out single into right field to bring the tying run to the plate in the bottom of the ninth, but Allen flew out to left field to end the threat.
Crusaders starting left-hander Dalton Lundeen (2-0) scattered 11 hits and six runs across 6 2/3 innings to earn his second win of the season. Karch Kowalczyk (4) registered the save after throwing a scoreless ninth inning.
Starting right-hander Alex Blackford (4-1) took his first loss of the season after surrendering six runs on six hits in 2 1/3 innings.
Up Next:
The Sun Devils take on UNLV for a home non-conference matchup on March 26 at 6:30 p.m. at Packard Stadium. The game will commemorate the 37th Anniversary of Rick Monday's flag-saving play during a Cubs-Dodgers game on April 25, 1976. ASU travels to Salt Lake City for a three-game Pac-12 series against Utah April 26-28. Friday's game begins at 5 p.m., with first pitch on Saturday at 3 p.m. and Sunday at 12 p.m. (all times local Pacific). All four games will be broadcast by Tim Healey and former Devil Seth Dhaenens on the MidFirst Bank Sun Devil IMG Sports Network on NBC Sports Radio AM 1060 and on the All-Access player on thesundevils.com.
Game Notes:
Coach Esmay moved to 69-16-1 against non-conference opponents...center fielder Kasey Coffman led off the first inning with a double and then scored on Benjamin's two-run homer.
Copyright 2013 CBS 5 (Meredith Corporation). All rights reserved.