High-tech peephole used to see what's going on outside door
Posted:
Updated: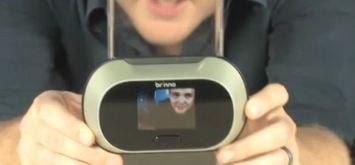 PHOENIX (CBS5) -
Many people here in Phoenix couldn't imagine experiencing the kind of lockdown Boston was under while a suspect was on the loose. But in the age of technology, security advancements are giving homeowners more peace of mind.
As children laughed and played at a Phoenix playground Friday afternoon, their parents tried to imagine how they would deal with a lockdown like the one in Boston.
"They were probably really scared," said Sky Tallabas.
"I would definitely stay inside. I would be scared, and not go out in public," said Alejandra Olivardo.
Meanwhile, one of the Boston Marathon suspects was triggering an intense manhunt.
"Then, all of a sudden you wake up, and you find out that, well, there was a shooting last night, one of the suspects is dead, the other one is in your neighborhood," said Ric Najarian, who lives in Watertown, where the suspect was captured.
"I thought to myself, OK, is the suspect in the yard next to mine? Because there's four cops crouched behind the car across the street," Najarian said.
The lockdown was eventually lifted, but what if you wanted to see what was going on outside without opening the door?
"This is the Brinno Peephole Viewer," said Chris Adams, who works with Phase 3 Systems, via Skype.
You pop out your peephole and attach the device instead. It has a large screen as well as record and zoom features.
"You press the button once, you see the person," Adams said. "If you press the button again, you zoom in on the person."
Adams, originally from Boston, said this just gives him a little more peace of mind.
"Schools are doing this, some of them are putting it in dorms. Federal offices, federal government offices are doing this," Adams said.
You can buy one of those peephole viewers for around $90. For more information, visit http://natureshost.com/.
Copyright 2013 CBS 5 (KPHO Broadcasting Corporation). All rights reserved.