FL sex offenders ID'd with signs outside their homes
Posted:
Updated: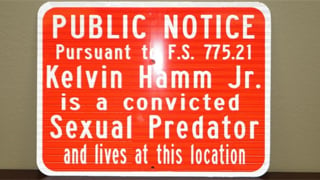 One of the signs erected in Bradford Count, FL. (Source: vice.com)
STARKE, FL (CBS5) -
Convicted sexual predators in Bradford County, FL, now have red reflective warning signs outside the homes.
Eighteen sex predators who live there found large red signs outside their homes last week that read, "A convicted sexual predator... lives at this location," according to vice.com.
Sheriff Gordon Smith said the signs cost about $10 a piece.

The signs are only being posted at the homes of sexual predators, not sex offenders, according to vice.com. A predator is someone who had been convicted of a first-degree felony and is either a repeat offender or their crimes are violent with a victim under 12.
"We're just trying to do everything we can to make the public aware," said Brad Smith, Bradford County Police Department's chief of operations.
When asked if law enforcement is worried about lawsuits, Smith said, "We're certain challenges wouldn't stand up in court though, because we're being directed by a Florida statute, and the statute specifically says, 'The sheriff of the county or the police chief of the municipality where the sexual predator resides shall notify the community and the public of the presence of the sexual predator in a manner that is deemed appropriate by the sheriff or the chief of police."'
Copyright 2013 CBS 5 (KPHO Broadcasting Corporation). All rights reserved.