AZ doctors launch shoe drive for marathon bombing victims
Posted:
Updated: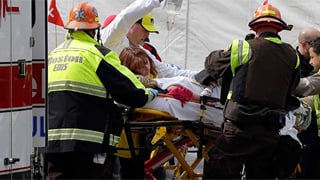 An injured person is loaded into an ambulance in the aftermath of two blasts which exploded near the finish line of the Boston Marathon. (Source: Elise Amendola, AP)
PHOENIX (CBS5) -
Scottsdale doctors have launched a running shoe drive in honor of the victims of Monday's Boston Marathon bombings.
Scottsdale-based Novocur Pain Management Clinics is collecting new and gently-worn running shoes for Back on My Feet Boston, an organization that helps Boston's homeless move their lives forward physically and spiritually through running.
"By hosting this drive, it is our hope that we can support and inspire the people of Boston to keep putting one foot in front of the other and let them know the entire country is behind them every step of the way," said Dr. Alex Bigham, CEO of Novocur.
Back on My Feet started in the summer of 2007, when avid runner Anne Mahlum waved hello and ran past a group of homeless men during her morning run. In a few weeks, Mahlum decided to contact Sunday Breakfast Rescue Mission, the homeless shelter where the men were living, and ask the executive director if she could invite the men to join her on her runs. He agreed, and the first run took place on July 3, 2007 with a group of nine people who were hoping to get their lives back on track.
The organization's mission is not to create runners within the homeless population, but to use running to create self-sufficiency in the lives of those experiencing homelessness. The program's success is measured by how many members achieve independence through employment and housing.
Through dedication and hard work, program participants experiencing homelessness earn the opportunity to create a new road for themselves. Running leads to personal transformation and dedication to the program leads to access to training, employment and housing resources. Through community and corporate support, the program strives to change the perception of homelessness.
The physical, emotional and spiritual pain experienced by those affected by the terror at the Boston Marathon is not something any doctor is ever truly prepared to deal with, Bigham said.
"Our team of doctors and clinical staff especially wants to honor the first responders, physicians, surgeons, nurses, and every good Samaritan that worked tirelessly and courageously to save so many lives that day," Bigham said. "We all have a long road to recovery ahead of us, and reaching out to the city of Boston with our love and support is the first step," he said.
People can drop off new and gently worn running shoes at either of Novocur's two Valley locations through Friday, April 26. In lieu of shoes, tax-deductible cash donations will also be accepted. The shoes and cash donations will be sent to Back on My Feet Boston to be utilized by program participants.
People can drop off running shoe donations at Novocur Scottsdale at 10025 E. Dynamite Blvd. or Novocur Chandler at 1076 W. Chandler Blvd.
Copyright 2013 CBS 5 (KPHO Broadcasting Corporation). All rights reserved.