Survey: Majority of parents want first child to be a boy
Posted:
Updated: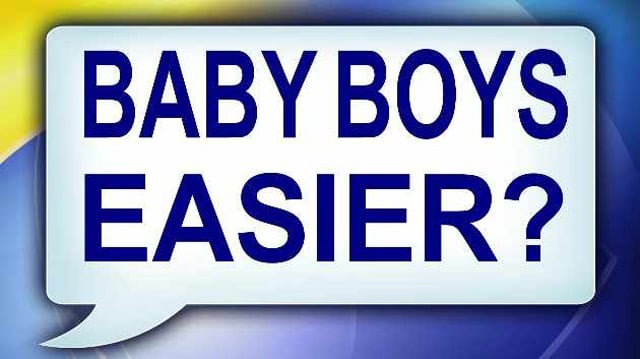 A new survey shows almost half of Americans want a boy as their first child because they're not as hard to raise as girls.
CouponCodes4u.com, a money-saving website, surveyed 2,129 newlyweds and 47 percent said they'd prefer to have a son first because they're "less hard work."
Only 21 percent said they wanted a girl first, and 32 percent said didn't have a preference either way.
According to the research, of those that said they'd prefer a son, 63 percent were men while 29 percent were women; in comparison, 11 percent of respondents said they preferred a daughter were men, when nearly a third, 31 percent, were women.
When asked why they would prefer to have a son over a daughter, 45 percent said that having a son would be "less hard work," while 31 percent admitted that they felt that sons would look after the younger siblings better. A fifth, 19 percent, said they wanted their male child to carry the family name.
According to the research, 5 percent of parents said they did not want a daughter at all, while 37 percent claimed that would like a daughter eventually but as their second child.
Furthermore, of the respondents that said they would prefer a daughter as their first child, 39 percent said it was because they felt that a daughter would be a better role model to her younger siblings.
The remaining 12 percent cited that they had no preference to the child's gender and 95 percent said that the main priority was that their child was healthy.
"While all parents love their children, we were interested in seeing whether or not couples had a preference in terms of the gender of their first child," said Mark Pearson, Chairman of CouponCodes4u.com. "I was surprised to see how many childless couples would prefer a boy as their first child, with many citing the fact that raising a boy is apparently easier and less stressful than raising a daughter."
"What the survey does highlight is the fact that gender preference is still an issue that many couples face when they discover they are having a child," Pearson said. "Hopefully what all parents should remember is that the health of the child is much more important than the gender. Being healthy and happy is what counts."
Copyright 2013 CBS 5 (KPHO Broadcasting Corporation). All rights reserved.