Manhunt continues for gunman in AZ bail bondsmen's murders
Posted:
Updated: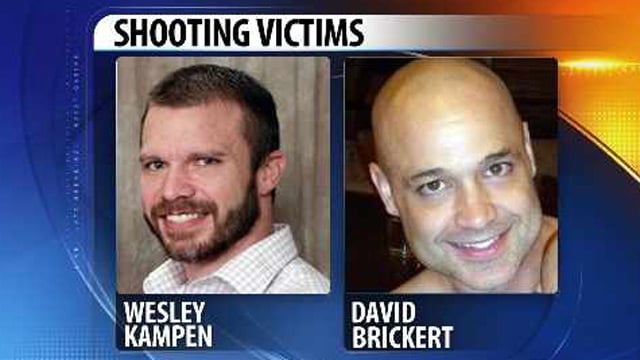 (Source: CBS 5 News)
PHOENIX (CBS5) -
The manhunt continues to find the gunman who murdered two Arizona bail bondsmen on Monday night.
Wesley Kampen, 39, and David Brickert, 37, were shot and killed in a Phoenix neighborhood, near 19th and Peoria avenues.
Police said the bondsmen were there to apprehend Anthony Giunta, a wanted fugitive whose criminal history includes misconduct with weapons, aggravated assault and resisting arrest.
According to investigators, Kampen and Brickert had handcuffed Giunta and were walking him to the car when the bondsmen were ambushed. A gunman ran up from behind and opened fire on the recovery agents.
The two men died at the scene while Giunta and the gunman took off, police said.
Kampen and Brickert were working for Sanctuary Bail Bonds.
The company released this statement:
"We are saddened by the loss of two of our Sanctuary Bail Bonds family members. David leaves behind a beautiful family, his fiancee and two young children. Wesley also leaves behind his son. We will do what we can to support the family as we all go through this difficult time."
John Burns is president of the Arizona Bail Bondsman Association and knew both of the victims.
"This is a very sorrowful day in the bail bonds industry and our hearts go out to the families of both David and Wes," Burns said. "We're very sad today."
Police spent more than two hours searching the area for Giunta and the gunman.
Giunta was later found and taken into custody, but the actual killer is nowhere in sight, police said.
"At this point, we have interviewed a number of witnesses on the scene and we have been unable to get a good identification on who the shooter is," said Phoenix police Sgt. Steve Martos.
Authorities said that Giunta has not been cooperative and refuses to provide any information about the killer.
Police are now reaching out to the public to call in with any leads.
"He doesn't just have law enforcement looking for him," Burns said. "We're looking for him too."
A fund has been set up to help support the victims' families and help pay for funeral expenses. Donations can be made at www.SanctuaryBailBonds.com.

Copyright 2013 CBS 5 (KPHO Broadcasting Corporation). All rights reserved.