Pitching Key As No. 15 ASU Baseball Wins Series At USC, 6-5
Posted:
Updated: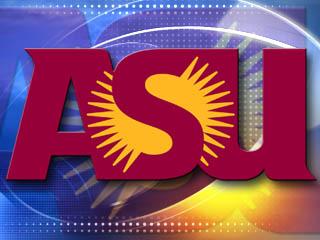 ? cbs 5
PHOENIX (CBS5) -
Starting right-hander Alex Blackford and a trio of relievers helped lead the 15th-ranked Arizona State University baseball team to a series win on the road at USC, 6-5, on Sunday at Dedeaux Field in Los Angeles.
The Sun Devils (22-10-1, 8-7) won their third consecutive Pac-12 series of the season despite dropping the series opener on Friday night, which is something an ASU team hasn't done on the road since 2007 at Washington.
Right fielder Trever Allen hit a solo home run over the left field fence in the top of the fifth inning to put ASU ahead, 6-0, and record what proved to be the game-winning run as the Trojans (13-22, 6-9) rallied to score five runs over the following three innings.
Right-hander Alex Blackford (4-0) faced the minimum 12 batters over the first four innings and retired 11 consecutive Trojans until he issued a walk with one-out in the bottom of the fifth inning. He struck out five and walked one, and allowed just one earned run on four hits in six innings to earn his fourth win of the season.
Right-handed reliever Darin Gillies took over with one out in the seventh inning and allowed just one base runner in 1 2/3 innings. He stranded three runners on base, including two in the seventh, and forced a fly ball to left field after an eight-pitch at-bat with two outs and the tying run on first base in the eighth inning.
Freshman right-hander Ryan Burr (7) collected his seventh save of the season after closing out the ninth inning. He is now in sole possession of fourth place on the school's freshmen single-season saves list, and trails Jason Jarvis (2007) by four, and Mitch Dean (1976) and Zechery Zinicola (2004) by one.
ASU batted around and scored five runs in the top of the second inning behind a pair of two-run doubles by first baseman Dalton DiNatale and second baseman James McDonald, and an RBI single by Kasey Coffman to jump out to a 5-0 lead.
Allen's solo home run in the top of the fifth inning stretched ASU's advantage to six, but the Trojans countered with four runs in the bottom of the frame to cut it to two, 6-4. A one-out walk and a two-out single scored the first run of the game for USC in the inning, and a throwing error by catcher RJ Ybarra on a dropped strike three allowed the Trojans to tack on three more.
Left-hander Matt Dunbar issued two walks and a double to start the bottom of the seventh to load the bases with no outs before getting a strikeout to record the first out of the inning. He was then replaced by Gillies, who gave up a sacrifice fly to center field to make it a one-run game, but induced a popup to strand two runners on base and preserve the Devils' advantage, 6-5.
USC starting left-hander Kyle Twomey (2-4) was replaced after giving up five runs in the second inning and took the loss.
Up Next:
The Sun Devils head to Tucson on Tuesday to face Arizona for a non-conference midweek game. First pitch is at 6 p.m., and will be televised on the Pac-12 Networks with Ted Robinson and JT Snow on the call. It will also be broadcast on NBC Sports Radio AM 1060 or through the All-Access player on thesundevils.com. The Devils return home to host Valparaiso for a three-game nonconference set over the weekend. Friday and Saturday's games are set for a 6:30 p.m. start, while Sunday's game will begin at 12:30 p.m. Fans can also follow the team on Twitter at @ASU_Baseball for live scoring and updates from the weekend, and check thesundevils.com for stats, notes and more.
Copyright 2013 CBS 5 (Meredith Corporation). All rights reserved.