Angler reels in Arizona's heaviest recorded fish
Posted:
Updated: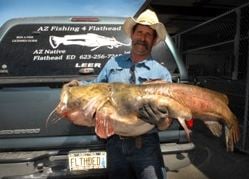 PHOENIX (CBS5) -
Business should pick up for the fishing guide who just set a new state record for heaviest fish ever recorded in Arizona.

Arizona Game and Fish Department spokesman Nick Walter said 56-year-old Eddie "Flathead Ed" Wilcoxson was asleep on the fold-out cot of his pontoon boat on early Friday morning when his fish tale began.
Walter said it was 2:37 a.m. when Wilcoxson awoke to hear his reel's drag being pulled out by the big fish. It took Wilcoxson about 35 minutes to land the 76.52-pound flathead catfish. It measured 53.5 inches in total length with a 34.75-inch girth. Bill Stewart, also of Surprise, was on the boat as well.
Walter said it also became the heaviest recorded fish of any species in state history, topping the 74-pound flathead catfish caught in 1988 out of the Colorado River by Walter Wilson of Bard, CA.
Wilcoxson owns the "AZ Fishing 4 Flathead Cat" fishing guide service.
He said he received his new guide license April 1. "But I've been fishing Arizona my whole life," he said.
"Everybody's got the same chance I do," Wilcoxson said. "You just have to get out and do it."
In addition to flathead catfish, the 2,015-acre Bartlett Lake, located in the Tonto National Forest northwest of Phoenix, holds largemouth bass, sunfish, crappie, channel catfish, carp and crayfish.
Bartlett Lake also produced the state record carp that weighed 37 pounds, measured 40 inches, and was caught in 1987 by Jonathan Gardner of Phoenix.
A USFS Tonto Pass is required to access Bartlett Lake.
Copyright 2013 CBS 5 (KPHO Broadcasting Corporation). All rights reserved.