UPDATE
Dead gunman ID'd in Phoenix shootout; Fired at 9 officers
Posted:
Updated: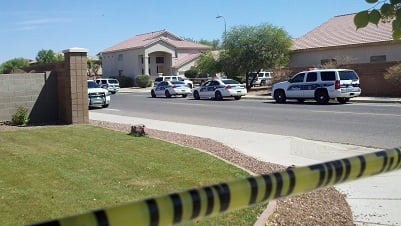 PHOENIX (CBS5) -
Police shot a man to death early Saturday morning after they said he fired at least 100 rounds of ammunition at officers and on his west Phoenix neighborhood.
The victim is identified as 29-year-old Jesus Antonio Torres.
Phoenix police spokesman Sgt. Tommy Thompson said officers were called to a home near 81st Avenue and Gibson Lane around 1 a.m. regarding a domestic situation.
Thompson said officers had been called to the same location about an hour earlier for a reported suicidal person, but found nothing at the time.
When officers arrived, they were not able to get a response at the residence and began to canvas the neighborhood. One of the officers saw what appeared to be a man inside the home with a gun, which caused the officers to dive for cover and set up a perimeter around the house.
Police issued orders over a PA system for the occupants to come outside, Thompson said. Eventually, a woman came out. Officers took her to a safe location. She identified the man inside as Torres, her boyfriend. He was depressed over child custody issues and was armed, Thompson said.
While the officers were setting up tactical positions and evacuating houses in the area, Torres began to shoot at the officers, Thompson said. Several officers had sought cover behind a police vehicle. The vehicle was struck numerous times by the suspect's gunfire. One officer suffered a minor injury to his hand and it is unknown if it was caused by a bullet fragment or from shattered glass or debris from Torres' gunfire, Thompson said.
The suspect continued to fire from inside the house and owing to a change in the sound of the gunfire, it appeared he was using both a handgun and rifle, Thompson said.
Torres continued to fire from different locations throughout the home, Thompson said. His gunfire struck houses to the north, across the street, as well as houses to the rear or south of his house, Thompson said.
He fired shots into the ceiling of his home, which could be seen exiting through the roof. Officers believed he was possibly shooting at a police helicopter, which was circling overhead, Thompson said. It was later determined it was not struck, following a precautionary landing.
At one point, an officer who was to the rear of the house where Torres was shooting with a rifle, returned fire with his pistol when he felt threatened. Torres went back into the house and continued to fire his weapons, Thompson said.
Caught in the line of fire while covering the breaking news, freelance photographer Chad Black feared for his life as bullets flew in his direction.
"It was the most scared I have ever been in my life," said Black. "Bullets were hitting just above my head, within arm's reach."
Black and another man, Steven Allen, took cover behind a nearby mailbox until the shooting ended.
Eventually, Torres exited the front door of his residence and began to fire at the officers to the front of the house, Thompson said. A number of the officers returned fire, striking Torres, who died of his injuries at the scene.
Including the officer who engaged Torres to the rear of the house, a total of nine officers returned fire at Torres to end the threat.
There were at least 16 other officer/victims who were either shot at or were in the immediate areas of where bullet strikes occurred, Thompson said. In addition, at least six homes in the area were struck by gunfire from Torres.
Lata Ramirez, who lives right down the street, arrived home just as the shootout began.
"It was about four different cops all around his house with guns," she said. "We saw them all the way down on the ground with guns aiming at him. I was like, oh, it's about to go down. Everybody get in the house."
It appears that Torres used a Sig Sauer .40-caliber pistol and an AK-47 rifle during this incident, Thompson said. Both weapons were recovered at the scene. Torres's girlfriend told police he had numerous guns in the home.
In addition, while the exact number of rounds Torres fired is not known at this time, it appears that he fired more than 100 rounds.
The officers involved will be placed on administrative leave, which is also standard procedure.
Copyright 2013 CBS 5 (KPHO Broadcasting Corporation). All rights reserved.
UPDATE

Dead gunman ID'd in Phoenix shootout; Fired at 9 officers

More>>

Tuesday, March 24 2015 2:13 PM EDT

2015-03-24 18:13:51 GMT

Complete coverage of officer-involved shootings in and around the Valley of the Sun.

More >

Complete coverage of officer-involved shootings in and around the Valley of the Sun.

More >