Charter school advocates rally to keep funding
Posted:
Updated: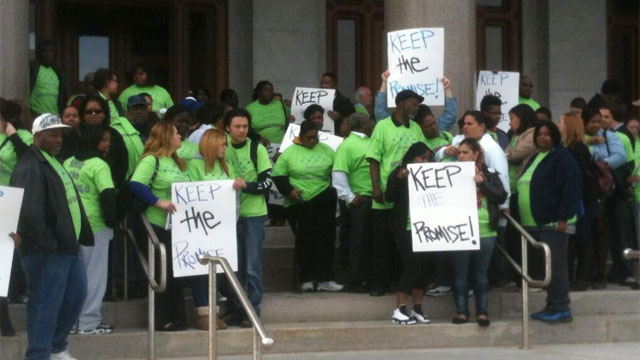 HARTFORD, CT (WFSB/AP) -
Students, parents and community advocates are urging Connecticut lawmakers to provide what they call fair funding to public charter schools.
Advocates said education reform approved last year called for annual increases of $500 a student in charter school spending for the next three budget years. It was supposed to bring charter school funding more in line with spending for traditional schools.
Advocates said the increase was cut in last year's deficit reduction package. They said Gov. Dannel Malloy's proposed budget restores funding in July, but the increases would be delayed for a year.
Now a junior at New Haven's Amistad Academy, William Langley, said he's come a long way.
Today on the steps of the Capitol, Langley gave a speech asking legislators to increase their charter school funding.
A few years ago, this would have been difficult.
When he started fifth grade, he said he learned he was reading on just a second-grade level.
"I was shocked," he said. "In my old school, I was one of the better students. The teachers worked with me and by the time I reached the seventh grade I was reading like a sophomore in high school."
Last year, lawmakers passed sweeping education reform. That included annual spending increases of $500 per charter school student for the next three years.
The idea was to bring charter school funding more in line with traditional public schools, but in December, while trying to balance the budget, that increase was cut.
"We're concerned that it's a sign of things to come," said Jennifer Alexander of the Connecticut Coalition for Achievement Now.
Keep the promise - that's the message of those that rallied in Hartford. They said they don't want legislators to balance the budget by breaking the promises they made to students last year.
"For some schools it means they may have to lay off teachers, some schools had to stop construction projects, not able to spend on curriculum," Alexander said. "These are schools that have long been under funded compared to traditional public schools."
Malloy's current budget calls for restoring the funding in July with the condition that it would be delayed for a year, which means a big gap for the charter schools counting on it.
Now parents, teachers and advocates are hoping the Appropriations Committee comes through when it reveals its budget.
"We're hoping they stick with the governor's commitment in his budget," Alexander said. "We'll see what happens from there."
Copyright 2013 WFSB (Meredith Corporation). The Associated Press contributed to this report. All rights reserved.