UPDATE
Crisis Nursery funding slashed; shelter needs your help
Posted:
Updated: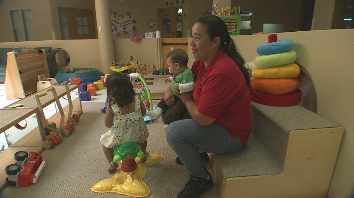 Maria Aguilar with her two children (Source: CBS 5 News)
PHOENIX (CBS5) -
For decades, the Crisis Nursery of Phoenix has served as a shelter and a safe haven for children in desperate situations.
While federal funding is being slashed, the need for their help is at an all-time high.
Maria Aguilar doesn't usually get to play with her young children during the afternoons. Instead, she's working hard behind the wheel of a bus for the Osborn School District.
As a single mother, the Early Head Start program at the Crisis Nursery is a godsend.
"They'll find any way to help you. They really break their backs to help the parents as well as he children," Aguilar said.
Aguilar learned that lesson the hard way decades ago. When she was 5 years old, Child Protective Services removed her from her mother's care.
She spent a month at the shelter before her family could be reunited.
"To a certain point, it's like a bad memory because you were taken away from your parents, but it's also a good memory because at least you know no one treated you wrong. You went to a place where no one beat on you. And that's what I liked about it," Aguilar said.
The Crisis Nursery is often the first time children are able to escape abuse or neglect at home.
For many, it takes days to relax and realize the food they are served will be given to them again the next day and every day.
"We're the place to come where children are not going to be kicked out for behavior," program director Kristin Andrew said.
The Crisis Nursery said they build strong attachment with the children by being reliable and consistent.
The attention the center provides has done wonders for Alonie Aguilar's communication skills. She wasn't talking before Maria Aguilar enrolled her at the nursery.
But with a 5 percent cut in funding, staff members worry for children they have to turn away, when they know those kids have nowhere else to go.
Click here to donate to Crisis Nursery.
On Tuesday evening, a CBS 5 News phone bank raised $68,100 for the Crisis Nursery. That's the second highest Pay It Forward phone bank total of all time.
Copyright 2013 CBS 5 (KPHO Broadcasting Corporation). All rights reserved.