No. 21 ASU Baseball takes series over no. 11 Oregon with 14-9 win
Posted:
Updated: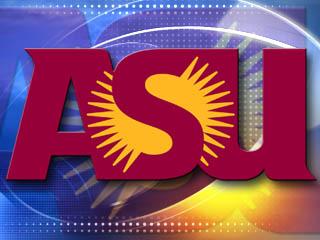 ? cbs 5
PHOENIX (CBS5) -
The 21st-ranked Arizona State University baseball team won its second consecutive home conference series with a 14-9 win over No. 11 Oregon on Saturday night in front of 3,481 fans at Packard Stadium in Tempe, Ariz.
Freshman Dalton DiNatale pinch hit in the seventh inning and went 2-for-2 with three RBI, and catcher Max Rossiter notched a trio of hits, including two doubles, as ASU racked up nine extra base hits.
The Sun Devils (19-8-1, 6-5) never relinquished their advantage after taking an early 2-0 lead in the first inning to collect its seventh win over a top-15 opponent this season.
A two-run double by designated hitter RJ Ybarra capped off a three-run fifth inning that gave ASU its largest lead of the game, 7-1, and both teams recorded three runs apiece in the sixth and seventh frames to make it a six-run game heading into the final two innings.
Oregon scored five runs in the top of the eighth inning to move within a run, 10-9, and had the tying run on second with one out, but left-hander Matt Dunbar struck out Brett Thomas and induced a foul pop fly to preserve the Devils' lead.
The Devils put up four runs of their own in the bottom of the eight to stretch their lead back to five, 14-9, and Dunbar (1) closed out the ninth inning to earn his first save of the season.
Starting left-hander Ryan Kellogg (7-0) faced just three batters in four of the first five innings en route to his seventh win of the season despite giving up six runs in the final 2 1/3 frames of his outing. He allowed a total of seven runs, including six earned, on 11 hits to go with five strikeouts and a walk.
Center fielder Kasey Coffman reached first on an error to start the opening frame and then scored on the ensuing play on standup triple by third baseman Michael Benjamin. Second baseman James McDonald followed with an RBI groundout to plate Benjamin and put the Devils ahead, 2-0.
The Ducks (22-8. 8-3) cut ASU's lead in half with an RBI single in the second, but the Sun Devils countered in the third as they fell a home run short of the cycle to begin the frame and extended their lead, 4-1. Coffman tripled, Benjamin singled and McDonald doubled before Rossiter grounded out for the first out of the inning.
UO starting left-hander Tommy Thorpe (4-3) allowed a season-high six runs, including five earned, in 4 2/3 innings, which was his shortest outing in eight starts this year, to take his third loss of the season.
Up Next:
The Sun Devils close out their three-game series against the Ducks at 12:30 p.m. on Sunday at Packard Stadium. The game will be broadcast on NBC Sports Radio AM 1060 or through the All-Access player on thesundevils.com, and will be streamed live at www.Pac-12.com/live/thesundevils. Fans can also follow the team on Twitter at @ASU_Baseball for live scoring and updates from the weekend, and check thesundevils.com for stats, notes and more.
Copyright 2013 CBS 5 (Meredith Corporation). All rights reserved.