Pinnick, Clarke Set New Career Bests For ASU T&F
Posted:
Updated: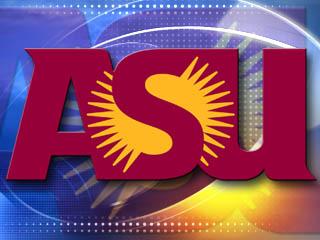 ? cbs 5
PHOENIX (CBS5) -
Chelsea Cassulo and Jordan Clarke were the top collegiate competitors in the hammer competitions to open the Sun Angel Classic and Keia Pinnick set a new career best down in Tucson in the heptathlon to open up an eventful weekend for the Arizona State University track and field teams.
Pinnick, competing in her first heptathlon of the 2013 outdoor season, bested her previous career-best with a score of 5,791 at Drachman Stadium as part of the Jim Click Combined Events. The score was 30 points better than her previous best, set last year at the NCAA Outdoor Championships, where she was fifth overall.
Pinnick finished second on Friday and was the top collegiate competitor, defeating Nike's Ryan Krais – who finished third - and finished less than 100 points behind Nike's Bettie Wade. Pinnick's score currently ranks first in the nation.
Redshirt senior Chelsea Cassulo won her second consecutive hammer throw competition on Friday with a mark of 68.90m (226-00) to open the 34th Annual Sun Angel Classic in Tempe, Ariz.
Cassulo had three throws over 68 meters and her worst through of the day of 66.39m was still better than any other NCAA competitor has thrown this season. Only Nike's Jessica Cosby Toruga – a 2012 Olympian and Sun Angel Stadium record holder - had a better throw on Friday with her mark of 73.00m (239-06). Cassulo finished ahead of 2012 Canadian Olympian Heather Steacy, who was third with a throw of 64.06m (210-02).
With the win Cassulo has now won eight of her last nine competitions dating back to the indoor season where she competed in the weight throw, with the only exception being a fourth-place finish at the NCAA Indoor Championships in that event.
On the men's side, Jordan Clarke improved upon his third best mark in ASU history with a new career best of 66.18m (217-07) to finish second overall behind 2012 Canadian Olympian Jim Steacy. Steacy won the event with a mark of 71.53m (234-08).
Clarke now holds the nation's fifth-best hammer throw in an event where he finished as a second-team All-American last season.
Teammate Joe Riccio was second on Friday with a best throw of 61.88m (203-00).
The Sun Devils will welcome over 1,000 entries to Sun Angel Stadium on Saturday in celebration of the 34th Annual Sun Angel Classic. Events are slated to begin with the men's open discus at 10 a.m. PT with running events getting underway at 2:15 p.m. The premiere/elite section of competition will begin at 6 p.m. PT.
Copyright 2013 CBS 5 (Meredith Corporation). All rights reserved.