CBS 5 Advocate
Homeowner claims insurance adjuster cost him $30,000
Posted:
Updated: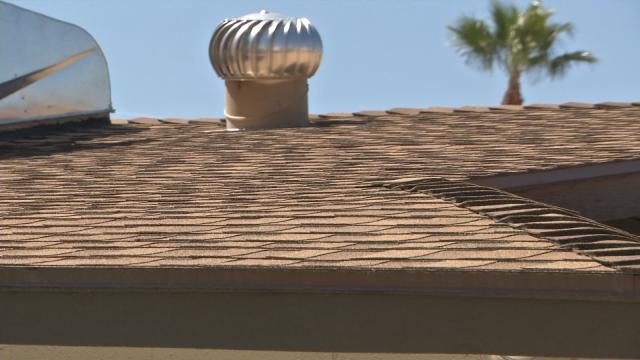 GLENDALE, AZ (CBS5) -
A Glendale homeowner says his insurance company is making up excuses not to pay his claim and has caused him to fork out more than $30,000 out of his own pocket.
If any homeowner has a major disaster that involves tens of thousands of dollars in claims, it is important they know what to do on the day the insurance adjuster comes to survey the damage.
"A tree fell on my roof," Dennis Yackell said.
That was December 2009. Yackell still has the tree stump in his yard. He says Met Life paid the claim and he replaced the roof. Almost a year later, Yackell says a hailstorm damaged the roof again.
"I couldn't believe it. I mean, just last year I had it repaired and replaced," Yackell said.
Yackell says while the second repair and claim were in process, a third storm hit. Yackell says it caused massive amounts of water to penetrate his walls and blew dozens of shingles off the roof.
"The ones that were replaced came right off immediately and those were the first ones put in the dumpster," Yackell said.
According to Yackell, the new shingles were on the bottom of the dumpster; the old ones that also blew off were on top. Yackell says the MetLife adjuster never bothered to dig a little.
"He just took pictures of what was on the top. He didn't even get in the dumpster," Yackell said.
Based on the adjuster's report, Yackell says MetLife concluded that the roof had never been replaced after the tree fell on it, and Yackell had failed to provide adequate covering that would have prevented damaged from that third storm.
"I got a letter from them stating that they were denying my claim because I failed to protect the roof," Yackell said.
Yackell says he's been a MetLife policyholder for ten years and never late on a payment. He says he's paid $30,000 out of his own pocket for this last repair.
"I'm not happy because I had a contractual agreement and it's not being honored," Yackell said.
In a statement to CBS 5, MetLife said "its investigation and denial is fully compliant with the laws of Arizona. We stand behind our investigation."
The company would not provide more specific details about how it came to it's conclusion.
Every homeowner needs to remember, the insurance adjuster may be helpful and professional but he works for the insurer. They're looking for ways to minimize expense to the company, so take video on your phone of their inspection and insist on getting an idea of their conclusions before they leave.
Copyright 2013 CBS 5 (KPHO Broadcasting Corporation). All rights reserved.