Report: Family is primary reason behind illegal border crossings
Posted:
Updated: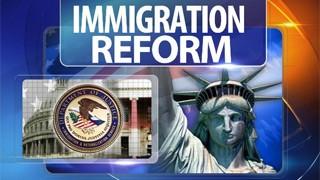 PHOENIX (CBS5) -
Family is now a bigger reason behind illegal border crossings than job opportunities, according to a new University of Arizona study.
Researchers say illegal immigrants put themselves at risk of being caught or in danger just to be with their loved ones here in the U.S.
The study suggests that family reunification needs to be addressed in immigration reform because hundreds of families are being split apart by deportation.
"He was here since he was 5, and he left when he was 23," said Cynthia Delgado.
She's talking about her husband, Jose Mena, whom she married after they graduated from high school. Soon after, they had two kids. But Delgado's fairy tale life was cut short when Mena was deported in 2010.
"I mean, it's hard. Holidays pass, he's not here. Birthdays pass, he's not here," she said.
Mena's situation is reflective of a changing shift in illegal immigrants' circumstances. A new University of Arizona report finds about one in four deportees have U.S.-born children, nearly a third call the U.S. their home and the average stay before deportation is seven years.
"Among these people who are deported there is this enormous pressure to return to the U.S.," said lead researcher and doctoral candidate Jeremy Slack.
Slack said of those who were deported, 70 percent said they would try to find a way to return, but only one-third are successful.
On Thursday evening, the group Riders United for a Sovereign America rallied in front of the state's Republican Party headquarters to keep lawmakers from passing amnesty.
Group member Tim Rafferty says laws shouldn't be bent but admits family is important.
"If there is such a great need for family reunification, let's let senators and congressman talk about that particular item and vote that particular item," he said.
Delgado says her husband won't be eligible to apply for U.S. re-entry for 10 years. But she hopes something happens before then.
"We're hoping for immigration reform that will keep families together," she said.
Slack will testify before Congress next week to talk about his findings and to push for reunification efforts.
Copyright 2013 CBS 5 (KPHO Broadcasting Corporation). All rights reserved.