CBS 5 Advocate
CARFAX is good, but go further when considering a used car
Posted:
Updated: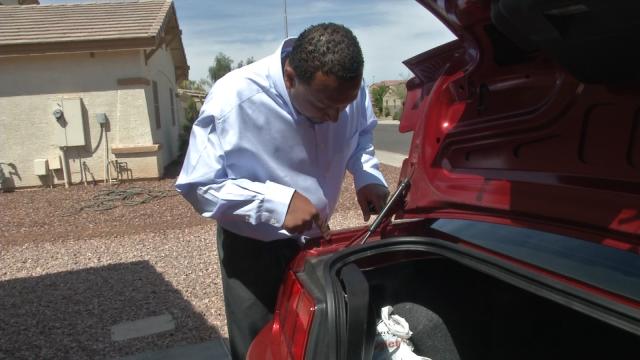 LITCHFIELD PARK, AZ (CBS5) -
A Litchfield Park man says he bought a car mainly because it had a clean CARFAX report, but the report turned out to be incomplete and failed to include some previous damage to the vehicle. His car is worth much less than he thought when he purchased it and he doesn't know who should take responsibility for the error.
CARFAX reports are a valuable tool for car buyers but consumers shouldn't rely on them 100 percent. Information is sometimes delayed in appearing on the reports or can be missing altogether. It's up to consumers, not the car dealer, to take an important extra step to know a vehicle's accident history.
Eric Solomon says it's easy to see the expert body work done on his 2007 Mustang now. But when he bought the car back in 2011, he didn't know what to look for, so he relied on what the dealer salesman said and did.
"The first thing they told me was that there's never been an accident on the vehicle. Then they showed me the document, the CARFAX to prove it. So from looking at the history of the vehicle, I didn't think there was anything else I needed to do," Solomon said.
Eighteen months later when Solomon tried to sell the Mustang, a different dealer gave him a new CARFAX report. This one showed extensive repairs to the frame were done months before he bought the car. The information didn't show up on the report until months after.
"If I just knew a little bit about body work, I could have found it just by lifting the trunk, and looking at the inside panels inside the car," Solomon said.
Car dealers are not required by law to disclose a vehicle's accident history. If you don't ask; most won't tell. If consumers do ask, many dealers will just hand them a CARFAX report. If the information on the report is inaccurate, as it was in this case, consumers shouldn't expect the dealership to give them a refund.
"Their response was, 'Hey, we can't do anything about it. Maybe we can trade you out of it, but there's nothing else we can do,'" Solomon said.
And that's why consumers should never rely on CARFAX reports 100 percent. Instead, before you buy, take the vehicle to a neutral site. Solomon knows five minutes at a reputable body shop would have kept him from making a bad purchase.
"It's killing my value by $3000 to $4000. I took a big hit and didn't even know it," Solomon said.
Sometimes a dealer knows if a car's been in a major accident, but again, they don't have to tell you, and you can't hold the dealer responsible for an incomplete CARFAX report.
So insist the dealer allow you to take the car to a body shop of your choosing to have it checked out. It should take five minutes and most reputable shops won't even charge you.
Copyright 2013 CBS 5 (KPHO Broadcasting Corporation). All rights reserved.