Valley students join School of Rock in Scottsdale
Posted:
Updated: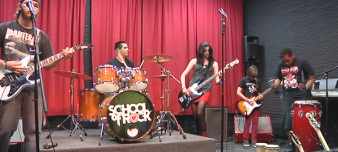 PHOENIX (CBS5) -
There's a new school in town - the School of Rock in Scottsdale.
Bands from the school are made up of kids of all different ages and backgrounds.
CBS 5 caught up with one of their bands during a jam session. Alex Cantu is the youngest member of the band, at age 11. He plays the guitar.
"It's a lot of fun because you just don't want to stay doing the same thing. You always want to learn something new and guitar is a really fun thing to do because the sky's the limit," said Cantu.
"It is truly awesome because when I come here I feel like I'm at home because I get to do what I love to do," said Cantu.
Erin Sperduti, who plays the bass, feels the same way. She said when the band performs together, something special happens.
"It's a dream. It's almost like a crazy explosion of energy. It's a magical, chemistry thing. It just feels surreal," said Sperduti.
Students take part in a private lesson and a group rehearsal session each week. Every season has a musical theme. Right now the theme is "British Invasion".
Later this year the school might study Motown, the Beetles or Metallica.
After studying and performing song from a particular them for about four months, the School of Rock books a venue and the kids perform.
Their last concert as at the Roxy Lounge in Old Town Scottsdale.
"The crowd was screaming for the them and, afterwards, the kids were red-faced and exhilarated. I didn't know it could feel like that and they gave an amazing performance," Megan Rousy, the general manager of the School of Rock, said.
The school will be holding a benefit concert to raise money for their scholarship fund.
The event will take place Sunday, April 7, at Toby Keith's I Love This Bar and Grill.
Rousy said Alice Cooper will be there. All the proceeds will be going to the scholarship fund.
Copyright 2013 CBS 5 (KPHO Broadcasting Corporation). All rights reserved.