University of Arizona Football continues spring practice
Posted:
Updated: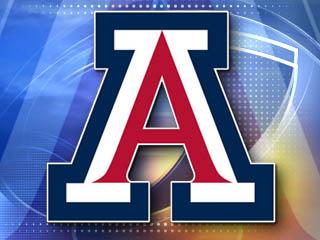 ? cbs 5
PHOENIX (CBS5) -
University of Arizona football continued its spring practice season with a workout on Wed., April 3, at Kindall Field/Sancet Stadium. In head coach Rich Rodriguez's second spring with the Wildcats, the squad was in shorts and shells for a 60-minute practice on Wednesday. Below is a brief transcript of Rodriguez's remarks following practice.
On the short practice:
"It was a short practice today and we did our 60 minutes of havoc. It's a 60-minute practice with as many reps as we can get. It's something a little different, must try to push the intensity, and to try to show we can get more reps in 60 minutes than some teams do in two and a half hours."
On the sounds played during practice:
"It was really annoying wasn't it? We want our guys to get uncomfortable. We want to be annoying. Other schools have tried it, and my DJ has some new sounds that he tried out today. I did find it rather annoying but I enjoyed it."
On Jesse Scroggins:
"He's gotten better. He's going to do a little more each practice. He can't do drops yet or running stuff but he did most of the individual stuff."
On the ideal tight end position:
"What's Gronk's size? You want that kind of size but a guy that can play multiple positions. You want a guy who can play out wide, a guy who can play tight and in the back field. We moved Terrence Miller because he can do that, and we could move Josh Kern from the quarterback position there, and Michael Cooper there. We're going to recruit at that position because that allows us to do a lot of different formations and not have to substitute."
On Wayne Capers Jr.:
"Wayne is healthy. He had this intestinal problem that he had all last year but I think he's feeling better. He's a good athlete and he has some experience so I'm expecting him to improve quite a bit. At times he looked like a freshman running around. I tell the freshmen, "if you don't know where you're going then run in place". We had a few freshmen doing that. He also showed his athleticism at times. He's a quiet guy but as he grows into his role, I think he can have a good career here."
Copyright 2013 CBS 5 (Meredith Corporation). All rights reserved.