Acquitted doctor wants medical license back
Posted:
Updated: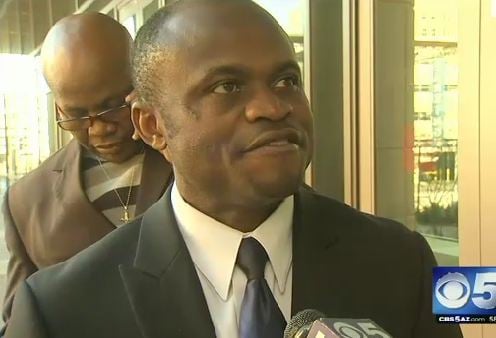 Gabriel Ogbonnaya
PHOENIX (CBS5) -
A Mesa doctor acquitted by a jury of sexually abusing his patients now wants to practice medicine again.
Dr. Gabriel Ogbonnaya was arrested in 2010, when nine women came forward and accused the doctor of touching them inappropriately.
The Arizona Medical Board first suspended his license then ultimately revoked it in 2012.
In March, a jury found Ogbonnaya not guilty of all charges. He was all smiles after he emerged from the courthouse in downtown Phoenix after the verdicts.
On Tuesday, Ogbonnaya appeared at the medical board's meeting. He and two other people spoke on his behalf and urged the board to reinstate his license to practice medicine.
"Now we presented our case for the board to make a reconsideration of their decision. We have not had any feedback on what they plan to do," said Ogbonnaya.
One of the people who spoke on behalf of the doctor was Mosley Ogbanga, a man who identified himself as Ogbonnaya's pastor.
"He took the chance to prove himself innocent and he went to court. And the jury acquitted him. So let the medical board listen to that and give him back his license," said Ogbanga.
Lisa Wynn, executive director of the Arizona Medical Board of Examiners, said the criminal acquittal of Ogbonnaya has nothing to do with the administrative action the board took against his license.
"There's a completely different standard for criminal convictions than there is for administrative actions on the part of a licensing board," said Wynn.
Wynn said Ogbonnaya can reapply for a license in five years or continue with the appeals process he has already begun in Maricopa County Superior Court to try to overturn the boards revocation.
"The man has suffered a lot. He has five children. He has basically lost everything. I think the medical board should go back and review this case and reinstate his license," said Ogbanga.
Copyright 2013 CBS 5 (KPHO Broadcasting Corporation). All rights reserved.