Stolen pet tortoise shell-shocked, but safe
Posted:
Updated: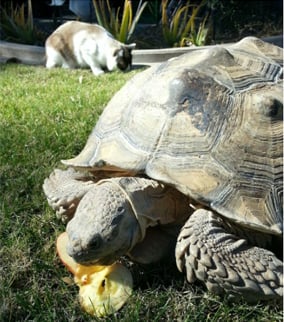 "Jeeps," a 16-year-old, 100-pound African Sulcata tortoise. (Source: Phoenix Police Department)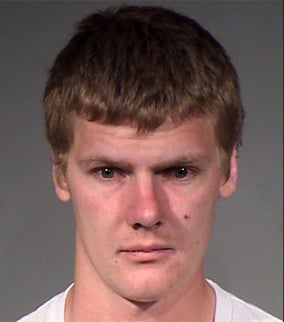 Derek McNight (Source: Maricopa County Sheriff's Office)
PHOENIX (CBS5) -
A 100-pound tortoise named Jeeps is back with his rightful owner after he disappeared from his Phoenix home and was later stolen, police said.
Officers said the man who allegedly stole the reptile, 24-year-old Derek McKnight, misrepresented himself as the owner.
The African sulcata tortoise belongs to Trisha Walker, who purchased it 16 years ago for her daughter. She called police on Friday after returning to her home in the 6200 block of West Elm Street, found the gate open and Jeeps missing.
Walker called police and Officer Ryan Ferrell showed up to take her report.
Meantime, her neighbor, Tempest Deptuch, found Jeeps walking on 62nd Avenue and took the reptile home. Deptuch made some fliers about finding the tortoise and put them up around the neighborhood.
McKnight was driving an auto parts store van in the area when he came across one of the fliers, said Phoenix police spokesman Officer James Holmes. McKnight called Deptuch and claimed he was the pet's owner, Holmes said.
McKnight then went to Deptuch's home to pick up the tortoise. Holmes said out of sheer instinct, Deptuch asked McKnight for his identification and she wrote down his name before handing Jeeps over to him.
Walker went looking for her pet and coincidentally checked with Deptuch, her neighbor, to see if she had seen the tortoise just as McNight was driving away.
Walker started running down the street, waving at the van in an effort to get McKnight to stop.
Phoenix police Officer Ryan Ferrell, who was at the scene filing a police report on the case, enlisted help from his fellow officers and had Jeeps back at home with her family within seven hours of the theft, Holmes said.
Officers jokingly said, if you were to ask Jeeps about the entire ordeal, he would probably have said, in a slow monotone manner, "I guess it all happened so fast. I'm just glad to be home!"
Copyright 2013 CBS 5 (KPHO Broadcasting Corporation). All rights reserved.