YCSO: Wilhoit dad jailed after underage drinking party
Posted:
Updated: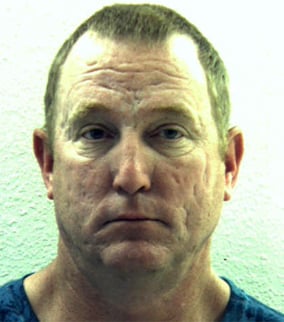 Jeffrey Blood (Source: Yavapai County Sheriff's Office)
WILHOIT, AZ (CBS5) -
A Wilhoit father was arrested over the weekend on suspicion of furnishing alcohol to minors, including his own 15-year-old son, the Yavapai County Sheriff's Office said.
Jeffrey Blood, 43, was booked into the Camp Verde Detention Center on another charge as well - four counts of contributing to the delinquency of a minor.
Sheriff's dispatchers said a caller late Saturday night tipped them off to a gathering of at least 100 people, including numerous underage persons drinking alcohol and using drugs.
Deputies said they were aware of the home due to similar incidents in recent months. As they approached, they learned many partygoers were leaving in various vehicles.
Blood met deputies at the gate of his home. Deputies said he told them his son had some friends over earlier but everyone was gone, including his son.
During a room-by-room search, deputies said they found a young man sleeping in Bloods' son's bedroom. Blood realized it was his 15-year-old son who he thought had already left with friends, deputies said.
Blood attempted to wake his son, but there was no response, sheriff's investigators said. After several minutes, his son finally awoke. Deputies said they were concerned about the teen's intoxication level and called for emergency medical personnel.
Blood admitted giving his son hard liquor, sheriff's deputies said.
Meanwhile, deputies positioned on nearby roads in the area had contacted several underage youth who confirmed consuming alcohol provided at Blood's home, the sheriff's office said.
At about 12:45 a.m. Sunday, deputies said they saw a vehicle weaving and almost hitting a guardrail near Highway 89 and Haisley Road. The driver, 20-year-old Tyler Sariano, of Prescott, was arrested on DUI charges, and his 18-year-old passenger was taken into custody for an underage drinking violation. Both acknowledged obtaining and consuming alcohol during a party at Blood's home, deputies said.
Just after 1 a.m., deputies stopped a vehicle after they saw it cross over the centerline twice and then drive on a dirt shoulder traveling east on Stevens Trail. Following a field sobriety test, the driver, 19-year-old Jonah Barnes, from Kirkland, was arrested on DUI charges. His 18-year-old female passenger was arrested for an underage drinking violation. Both admitted they had been at Blood's home partying and drinking.
Copyright 2013 CBS 5 (KPHO Broadcasting Corporation). All rights reserved.