Double headed shark fetus caught by fisherman
Posted:
Updated: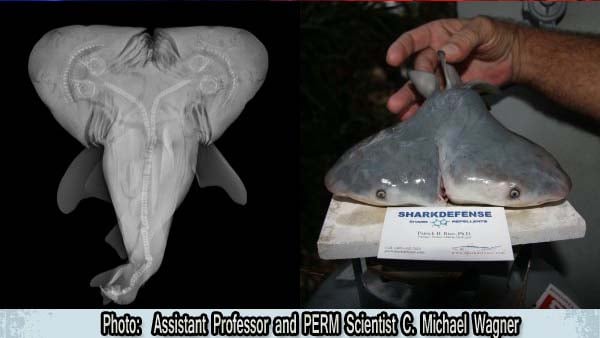 Courtesy of Dr. Michael Wagner
ATLANTA (CBS46) -
Scientists have confirmed the discovery of the first ever two-headed bull shark.
The shark was removed from a large female bull shark captured by a private fisherman April 7, 2011.
The fisherman donated the shark to the Florida Keys Community College.
Assistant Professor and PERM Scientist C. Michael Wagner with Michigan State University made contact with Florida Keys Community College who wanted to examine the fish, but didn't want to cut it up in the process.
Dr. Wagner talked with Dr. Tony Pease at the MSU vet school about running the shark through their CT/MRI.
After running the shark through the MRI they were able to confirm the specimen was a single shark with two heads, rather than conjoined twins.
This is the first record of dicephalia in a bull shark, said Wagner.
"You'll see many more cases of two-headed lizards and snakes," he said. "That's because those organisms are often bred in captivity, and the breeders are more likely to observe the anomalies."
Wagner's research is supported in part by MSU AgBioResearch.
Copyright 2013 WGCL-TV (Meredith Corporation). All rights reserved.