Anonymous raises money for sexual abuse victims
Posted:
Updated: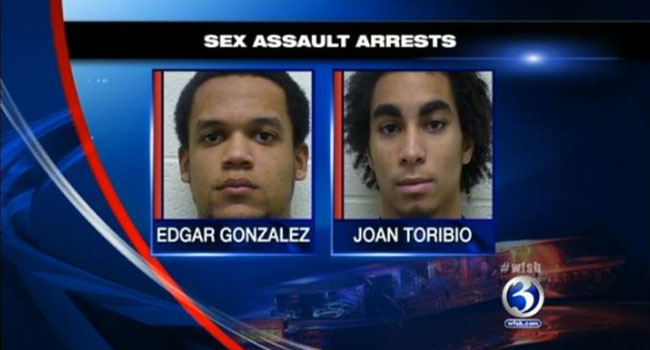 TORRINGTON, CT (WFSB) -
The group responsible for bringing national attention to a rape case in Ohio has turned its eyes to right here in Connecticut.
The hacker group known as "Anonymous" is focusing now on the case of two Torrington high school students, who are charged with sexually assaulting 13-year-old girls.
The Associated Press reported Steubenville High School football players Trent Mays and Ma'Lik Richmond were sentenced on March 17 to at least a year in juvenile jail after being found guilty of using their hands to rape a drunken 16-year-old girl. The case bitterly divided the city and led to accusations of a cover-up to protect the athletes.
Anonymous took some different approaches with these two cases.
In Steubenville, they went on the attack, while in Torrington, Anonymous said they focused on bringing about a positive influence in the community.
Torrington High School students told Eyewitness News that they like the idea of moving this community forward rather than focusing on accusations of sexual assault against three teenage guys - including two popular football players.
The two 18-year-olds and 17-year-old were all arrested for allegedly having sex with two different 13-year-old girls. The court documents on these cases are expected to be unsealed next week.
Since then, supporters of the players, and the alleged victims have both been playing the blame game under the #FreeEdgar.
"Please be advised that use of social media by Torrington students to disparage other Torrington students is entirely unacceptable," said Superintendent Torrington Public Schools Cheryl Kloczko in a letter to parents. "I want to caution you and your son/daughter that any inappropriate comments made against a student or a staff member, whether made in or out of school may subject a student to discipline (including the possibility of suspension or expulsion)."
Students told Eyewitness News the letter to parents is helping calm tempers at school.
"It makes things calmer at the school and everybody's starting to get along with each other, said sophomore Joshua Walker. "And its not as rambunctious as it was and things are starting to get back down to where it should be."
Under Connecticut law, children under 16 cannot legally consent to a sexual relationship, if there's more than a three year age difference.
"I think this incident says we gotta do more," said Barbara Spiegel, who is the executive director for the Susan B. Anthony Project in Torrington.
Susan B. Anthony Project provides services to victims of domestic violence and sexual assault as well as community education on those subjects.
"We've had programs on social media and online bullying and teasing and healthy relationships," Spiegel said. "We want to do more with students, with parents and their teachers and really pull the whole community into the conversation."
Anonymous wants to make it possible for them to do that. The group sent out a tweet urging people across the country to donate to the project and support victims of sexual abuse.
During the incident in Steubenville, the group uncovered photos and videos taken by members of the football team facing rape charges and made them public.
In a news release, Anonymous wrote they were "drawn to this particular case due to several incidents of online bullying committed by students who went to the same high school as the alleged rapists."
The group went on to say they wanted to have a positive influence on what they called a tragic event.
Susan B. Anthony Project told Eyewitness News that the organization has received $400 in donations since Sunday afternoon.
To donate to the Susan B. Anthony Project, click the following link.

To read the full letter sent to parents, click the following link.

Copyright 2013 WFSB (Meredith Corporation). All rights reserved.