McCain holds town hall on immigration reform
Posted:
Updated: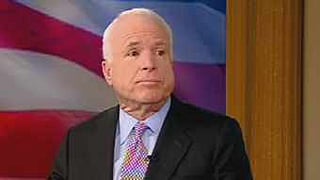 PHOENIX (AP) -
Arizona Republican Sen. John McCain is returning to his home state to chat up immigration reform.

McCain is scheduled to hold a town hall in Phoenix on Monday.

The meeting comes more than a month after McCain defended a proposed path to citizenship for the nation's 11 million illegal immigrants to an angry crowd at a town hall in suburban Phoenix.

It's unclear if the crowd in Phoenix on Monday will be more receptive. Immigration reform remains a divisive issue in Arizona, which passed its expansive anti-illegal immigration law in 2010.

McCain is working with a bipartisan group of senators to overhaul immigration. He has said he wants assurances on border security as Congress weighs what could be the biggest changes to immigration law in nearly 30 years.
Copyright 2013 Associated Press. All rights reserved.