UPDATE
Police checking report of armed man on UofA campus
Posted:
Updated: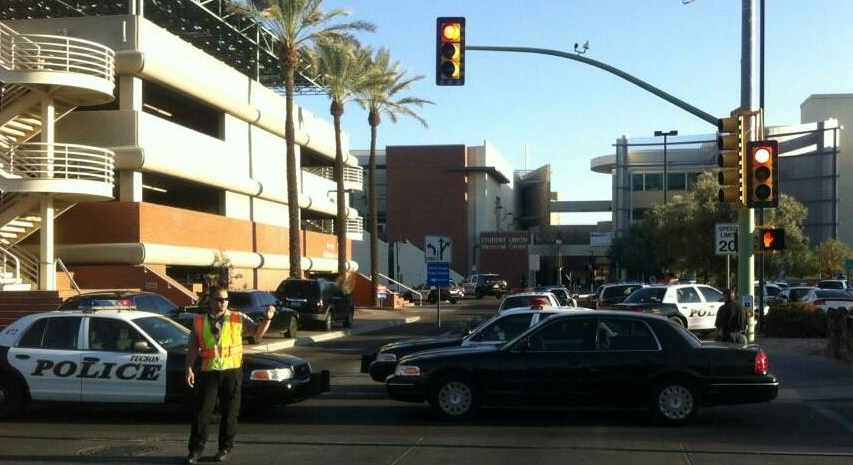 (Source: KOLD-TV/Tucson News Now)
TUCSON, AZ (CBS5) -
Authorities on the University of Arizona campus have not found a suspect after searching the campus in response to a report of a man with a rifle in one of the buildings.
UofA police spokesman Joe Bermudez said they have no confirmation of a gunman, as of 6:40 p.m. Friday. Bermundez said the police response was based on one 911 call to UAPD at 4:52 p.m.
UofA sent a text alert to students and staff warning of a report they received of a man with a gun on the Tucson campus.
The man was reported in the Administration Building with a rifle, according to the text alert received just after 5 p.m. Friday.
The University of Arizona Police Department said they and the Tucson Police Department responded and secured the area. They asked people to stay away from the area.
The Administration Building was evacuated and the Modern Languages Building was also evacuated as a precaution.
UofA sent out alerts urging students and faculty to leave the Administration Building through the second-floor lobby out the north lobby doors. Then they sent out another alert warning to evacuate the Modern Languages Building to the east exits through the east doors.
Click here for alerts from UofA.
Stay with cbs5az.com for updates on this developing story.
Copyright 2013 CBS 5 (KPHO Broadcasting Corporation). All rights reserved.