CBS 5 Advocate
AutoStyles won't refund deposit after deal falls through
Posted:
Updated: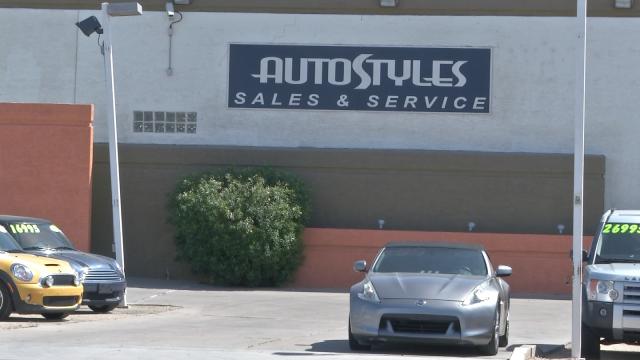 SCOTTSDALE, AZ (CBS5) -
A Valley mom says a Scottsdale car dealer is refusing to refund her son's money even though the deal fell through. The customer returned the car, but the dealer is keeping a big chunk of the down payment.
When you finance a car sale, you take the vehicle home while the lender works on the final approval. That process could take weeks. If the financing is eventually denied, you must bring the car back to the dealer and the dealer must give you back all the money you paid. The owner of a Scottsdale dealership called AutoStyles has decided not to do that.
"Give him his money back," Marie Watkins said.
Watkins says her son bought a 2012 Toyota from AutoStyles in Scottsdale. He put $7,000 down and financed the rest. A week or so later, she says the president of AutoStyles, Mohamammad (Mo) Ashraf, called her son and said the financing had been denied and the car needed to be returned. Watkins says she and son brought the car back to the dealership and Ashraf gave them a check - but it was only for $5,500.
"If a bank can't finance the car, and we bring the car back to you, there's no deal, so give me the $7,000 back. He said, 'Well, there's nothing else I can do for you,'" Watkins said.
Watkins says Ashraf accused her son of lying on his credit application and claimed the lender charged AutoStyles some sort of fee even though the deal didn't go through.
"That's not our fault if the bank charged you. You said the deal didn't go through, they wouldn't finance, so you're supposed to give me my check back. Why do I have a check for $5,500?" Watkins asked.
Watkins says she told Ashraf that her son did not lie about his income and she didn't believe the lender charged AutoStyles a penny. Paragraph 12 of the contract between Watkins' son and AutoStyles clearly states that if financing falls through, the customer must return the car, and the dealer must return all money paid.
"He wasn't concerned, he didn't care, it's like, 'I have your money, I'm taking $1,500 and that's the end of the deal,'" Watkins said.
Watkins says she's taking Ashraf and AutoStyles to court.
"If he's not stopped, he'll keep doing it over and over again," Watkins said.
The clause in question is standard in most car sale agreements - and it's in this agreement: If financing falls through, customers return the car, and all money is returned. In some contracts, the customer may have to pay a mileage charge or a cleaning fee - but that's it.
CBS 5 spoke to Ashraf. He reiterated his belief that Watkins' son lied on his credit application but he refused to provide any proof of a fee charged by the lender.
Copyright 2013 CBS 5 (KPHO Broadcasting Corporation). All rights reserved.