Police searching for suspect who delivered hand grenade to government building
Posted:
Updated: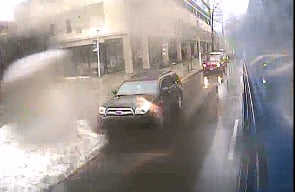 BRIDGEPORT, CT (WFSB) -
Police are asking for help in finding a man who arranged to have a hand grenade delivered to the Margaret E. Morton Government Center last month.
The grenade was hidden in a coffee cup and given to a person standing outside the Internal Affairs Office, who was told to bring it into the building. The person unknowingly did as he was told.
Investigators believe that the grenade was filled with a low-grade explosive powder, but are waiting to hear from the State Laboratory for confirmation. Police said the grenade is likely purchased as a souvenir, but the suspect appears to have intended to make an explosive device. A bomb technician for the state said the grenade would not have exploded because of its poor construction.
Police were able to get video of the car that the suspect was driving at the time of the incident. The suspect drove a 2003-2009 black Toyota 4-Runner with tinted windows, 5-point rims, chrome door handles, a roof rack and rain guards over the driver's and passenger's windows.
Officials are looking for a black male who is approximately 35, about 6' tall, medium build with scruffy hair. At the time of the incident he was wearing a waist-length coat with a belt and a light colored hat.
Anyone with information is asked to contact Detective Todd Hoben at 203-581-5247.
Copyright 2013 WFSB (Meredith Corporation). All rights reserved.