Friend arrested in connection with 1998 death of AZ teen
Posted:
Updated: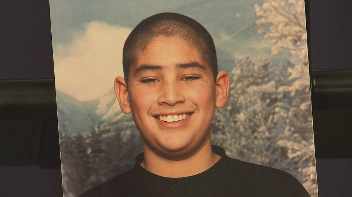 Pete Cadriel
PHOENIX (CBS5) -
A Phoenix family finally had some closure Thursday, 15 years after reporting their teenage son missing.
Police arrested his best friend as the suspect in his murder.
"This is really a story about a group of friends, many of whom kept a secret for 15 years," said Phoenix police Sgt. Steve Martos.
Pete Cadriel was 17 when his family reported him missing.
"We tried to do what we could, eventually it got to the point where we almost stopped," Abraham Santos said.
Santos was only 12 when he lost his brother. He said his mother never gave up. After fighting years to get out-of-state dental records, police confirmed in 2009 what the family had always feared - he was dead.
They matched him to a cold case from 1998 where a body was stuffed in a trash can behind a bowling alley.
Then detectives got a tip that led them to the victim's high school friend Israel Lomeli. Lomeli was arrested Tuesday, March 19.
"He was a friend of the family, he was a part of the family, just one of the guys who was like a big brother," Cadriel's sister Ruth Santos said.
Ruth Santos feels betrayed.
"He'd smile to my face and say, 'One day we're going to find him,'" Ruth Santos said.
Police said Cadriel and his friend broke into a home and stole some vintage weapons and a coin collection. They went back to Lomeli's house, fought over who got what, and then Lomeli shot Cadriel.
"I'd really just love to ask him, 'Why?' man to man. As a best friend, who does that to their best friend?" Abraham Santos said.
For their dad, it's bittersweet because his wife died last year, never knowing the truth.
The high school friend she had over for dinner kept that secret for so many years.
Police said Lomeli stayed pretty much out of trouble after the murder. He was a manager at a Valley carwash, working with the victim's sister.
He's denied any involvement but detectives said they found forensic evidence in his home.
[Related: PD: Arrest solves mystery of human remains in trash can]
Copyright 2013 CBS 5 (KPHO Broadcasting Corporation). All rights reserved.
Friend arrested in connection with 1998 death of AZ teen

More>>

SLIDESHOW: Butler's home


More >