Only on 3
Gun maker Colt says it has a lot to lose in gun control debate
Posted:
Updated: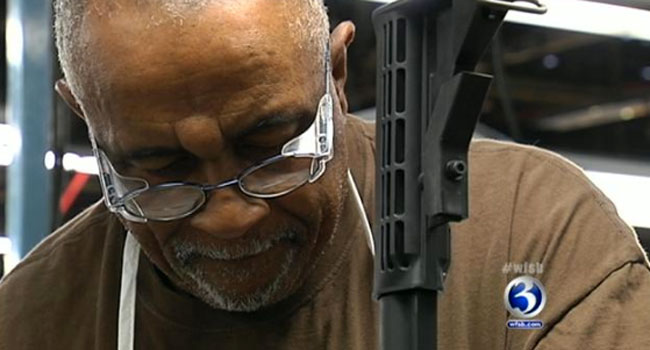 HARTFORD, CT (WFSB) -
While an assault weapons ban isn't in gun control legislation in the U.S. Senate, in Connecticut the battle is far from over.
Colt, which is the state's largest and oldest gun maker, is fighting hard to stop more gun control.
Ever since Connecticut lawmakers started talking about expanding the assault weapons ban, gun manufacturers have said they may leave the state.
On Wednesday, Eyewitness News took an exclusive tour of the Colt facility.

Officials at Colt said they have made weapons for just about every war the United States has been involved in.
"This product is used every day by responsible citizens," said Colt Chief Executive Officer Dennis Vellieux. "We would be taking our product away for no reason."
Vellieux told Eyewitness News that he wants to stop Connecticut lawmakers from passing legislation that would expand the assault weapons ban and make large ammunition magazines illegal.
In 2011, Colt sold 10,000 AR-15s, and just one year later, 100,000.
Officials said the huge jump happened when they started selling commercially in addition to just the military. However, less than 5 percent are sold in Connecticut.
The AR platform is already modified to meet Connecticut standards. Colt officials said further changes would make it almost impossible to sell.
The firearm manufacturer has been in the state for close to 200 years and they have invested millions in equipment.
But they say if Connecticut lawmakers expand the ban, it would hurt sales here and nationally.
"They won't support companies that make and deliver products that don't support their Second Amendment rights," Vellieux said.
Connecticut lawmakers are under pressure to act because of the massacre at Sandy Hook.
It is almost certain there will be more gun control, but in Washington, DC, an assault weapons ban may not happen since that part of the bill died on the Senate floor Tuesday.
"What a number of senators simply cannot take is the relentless and ruthless opposition of opponents, including the NRA," said U.S. Sen. Richard Blumenthal.
As for Colt, Vellieux said he is happy an assault weapons ban isn't part of the Senate's gun control bill but is now focused on what happens in Connecticut.
Gov. Dannel P. Malloy, who supports a ban, said he doesn't want to lose businesses or jobs.
"I think he's political," Vellieux said. "He wants to please people and at the same time pacify us. You can't have it both ways."
Blumenthal said he is proud of what Connecticut is doing, but they can't do it alone
He said he still feels a national assault weapons ban has a chance, but it may not be this session.
Copyright 2013 WFSB (Meredith Corporation). All rights reserved.