Judge dismisses Horne campaign finance case
Posted:
Updated: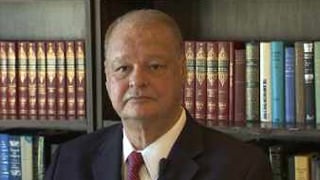 Arizona Attorney General Tom Horne
PHOENIX (CBS5/AP) -
An administrative law judge has dismissed a campaign finance case against Arizona Attorney General Tom Horne and his confidant, Kathleen Winn.
The judge, in throwing out the civil complaint, said the Secretary of State's Office failed to follow proper procedures in pursuing the charges against them. [Click here to read the judge's full decision (PDF)]
Tuesday's ruling by Judge Tammy L. Eigenheer said the Arizona Secretary of State's office made a mistake when it referred the case to the Maricopa County Attorney's Office. The case by law should instead have been sent to Horne's office first, since he's the state's chief legal officer.
The complaint alleged Horne illegally worked with a group that spent more than a half a million dollars against his 2010 Democratic opponent. It also stated Horne's brother-in-law contributed $115,000 to the same group. The complaint also said Horne hired that group's chair in a highly paid position as soon as he was sworn into office.
Horne's spokeswoman said he was pleased and was reviewing the ruling.
A spokesman for county attorney Bill Montgomery says he plans an appeal.
Winn attorney Timothy La Sota could not be reached after hours Tuesday.
Stay with cbs5az.com and CBS 5 News for updates on this developing story.
[Text BREAKING to 23765 to get news alerts on your mobile phone]
Copyright 2013 CBS 5 (KPHO Broadcasting Corporation). All rights reserved. The Associated Press contributed to this report.