App developed in AZ warns of dust storm danger
Posted:
Updated: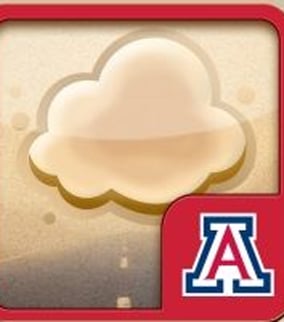 New dust storm app (Source: U of A)
TUCSON, AZ (CBS5) -
The University of Arizona has created a mobile application for iPhones that provides dust storm alerts and safety tips.
The free app uses a person's geographical location anywhere in the country to determine if there is danger of a dust storm, or any other type of storm, in the area. The warnings come directly from the WeatherBug service.
"Dust storms are so common in Arizona, and so many people are killed on the road because they don't know what to do," said Kirk Astroth, the brainchild behind the app. "We wanted to help."
Astroth is UA assistant dean of Cooperative Extension and director of the Arizona 4-H Youth Development program in the UA College of Agriculture and Life Sciences.
In addition to storm alerts, the app provides a list of specific tips for what to do when a dust storm hits.
The app also offers a place to list emergency phone numbers or insurance policy numbers drivers may want to have readily available in a storm.
It also provides a list of things people should keep in their cars as part of a Dust Storm Survival Kit. Some of those items include water, snacks or energy bars, a basic first aid kit, flashlight, dust mask and a whistle or pocket siren to signal for help.
An Android version of the app is expected to be released later this month or next month.
Copyright 2013 CBS 5 (KPHO Broadcasting Corporation). All rights reserved.