High school softball player loses speech ability from concussion
Posted:
Updated: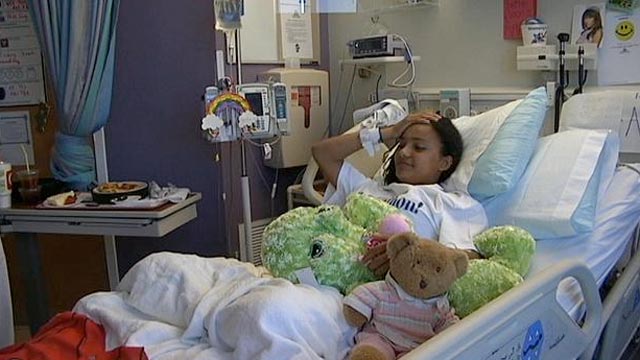 Annie Elrod was in the hospital for two days after the hit. (Mar. 15, 2013/FOX Carolina)
LIBERTY, SC (FOX Carolina) -
An Upstate teen was hit in the head with a softball at point-blank range, and is now recovering from a concussion that knocked her out and has doctors puzzled.
Her parents are still shocked that their top-notch athlete could be hit this hard off the field.
Annie Elrod's parents said she was released from the hospital Friday night after two scary days in the hospital.
Looking at Annie, one would suspect she was hit hard in the head with a softball Wednesday night and has been undergoing tests in the hospital since.
But if you ask her a question, she can't verbally respond. The hit affected her speech and motor skills. Over the last two days, Annie has gradually been able to move her body, but she still cannot speak her thoughts out loud.
"She's one of those that's always finding something to giggle about, to laugh about, to talk to Mom and Dad about. It's different not hearing that," said her father, Tim Elrod.
Tim Elrod was at his daughter's Liberty High School softball doubleheader when he said, in between the games during warmup, Annie bent down to pick up equipment, and at the same time she stood up, a teammate launched a ball.
The ball hit her directly on the left side of her head. Emergency services took the unconscious 15 year old to Greenville Hospital System's Children's Hospital.
He said the biggest shock was that Annie could've gotten hurt that badly while he was there.
Elrod and his wife said they've been adamant about the most protective gear for Annie every time she's on the field. As a homeschooled freshman, she plays for Liberty's JV and varsity teams.
Now her no. 18 jersey, ripped by EMS crews, serves as a reminder.
She said she has no hard feelings. In a typed message on her mother's phone, she wrote, "It was an accident. … She didn't mean to," in reference to her teammate who threw the ball.
In fact, Annie wants to get back with her teammates as soon as possible because she's got a Pixie Stix-eating contest to win.
Doctors told the Elrods that the symptoms Annie has may be post-traumatic, but they do expect that eventually, she'll get back to normal.
Annie won't be playing ball for the rest of this season, and any future hits could be devastating.
Many injuries that cause concussions may not be quite as apparent as what happened to Annie. The Centers for Disease Control and Prevention said to look out for any time a child gets hit hard in the head or body and has any kind of change in behavior, thinking or functioning.
Copyright 2013 FOX Carolina (Meredith Corporation). All rights reserved.