Unsecured ladder causes fatal, fiery crash on I-285 in East Point
Posted:
Updated: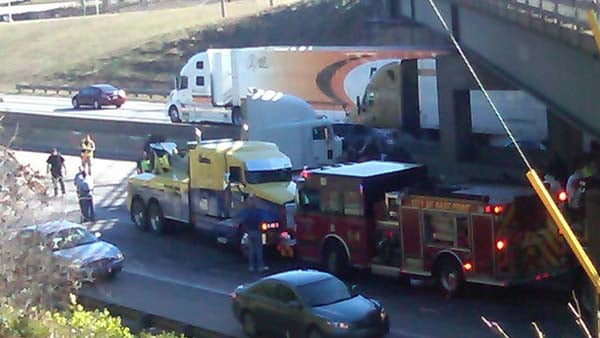 EAST POINT, GA (CBS46) -
A ladder in the roadway caused a fatal, fiery crash on Interstate 285 at Washington Road in Fulton County Tuesday afternoon.

The East Point Fire Department and Georgia State Patrol were at the scene of the accident that killed one person.
Police said a tractor trailer and three cars were involved in the crash.
One of the vehicles erupted into flames after impact, and one person inside that car was killed, according to an East Point fire safety officer.
Lt. Cliff Chandler with East Point Police told CBS Atlanta News that if the ladder had been secured properly the accident would have likely been avoided.
"Unfortunately, we think if the ladder had not been there, there is good possibility that this vehicle may not have stopped. Ergo, this accident may not have taken place," said Chandler.
Chandler also said it's a good chance the owner of the ladder may not even be aware that it fell.
He said unsecured loads are common and something officers look out for.
"If we do see a vehicle that has an unsecured load we generally stop it. If it merits a citation we do issue a citation out there because it is a violation of state law," said Chandler.
Investigators tell CBS Atlanta News all motorists can help out by calling 911 and reporting anyone with an unsecured load on the roadway.
Another person was taken to the hospital with a hip injury.
Georgia State Patrol is still investigating the accident.
Copyright 2013 WGCL-TV (Meredith Corporation). All rights reserved.