No. 19 ASU Baseball Sweeps Long Beach State With 11-2 Win
Posted:
Updated: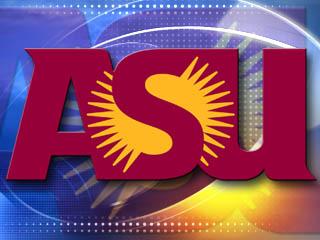 © cbs 5
The 19th-ranked Arizona State University baseball team completed a three-game series sweep over Long Beach State with an 11-2 win on Sunday at Packard Stadium in Tempe, Ariz.
The Sun Devils (10-2-1) held Long Beach State scoreless in 26 of 27 innings over the weekend and did not commit an error in all three games. The pitching staff allowed just 11 hits and issued only six walks in the series, while the offense outscored the Dirtbags, 21-2.
Seven different Devils notched an RBI in the bottom of the fourth inning as ASU tallied nine runs on six hits to take a commanding 9-0 lead. Third baseman Michael Benjamin knocked in a two-run double to stretch his hitting streak to a career-high 12 games, Dalton DiNatale recorded his first career RBI with a bases-loaded walk and catcher Max Rossiter scored two runs to highlight the Devils' highest-scoring inning this season.
ASU racked up 22 consecutive scoreless innings in the series before the Dirtbags (6-10) broke up the streak with a two-run homer in the top of the fifth inning to cut the deficit to seven, 9-2.
Center fielder Kasey Coffmancapped off three straight two-out hits in the bottom of the fifth with an RBI single, and second baseman James McDonald hit a solo home run in the sixth to extend the Devils' advantage, 11-2.
Starting left-hander Adam McCreery (1-1) posted his first win of the season after conceding two runs on six hits with a pair of strikeouts in 4 1/3 innings.
Right-hander Alex Blackford allowed one base runner in 1 2/3 innings and left-hander Matt Dunbar threw a perfect seventh before right-hander Ryan Burr struck out four to close out the final two frames.
LBSU starter Jon Maciel (1-3) took the loss after allowing five runs, including three earned, on three hits in 3 1/3 innings.
Up Next:
The Sun Devils host four games next weekend, including a midweek non-conference tilt vs. New Mexico on March 13 at 6:30 p.m., and opens Pac-12 Conference play with a three-game home stand against Washington State March 15-17. All three conference games over the weekend can be heard on The Fan AM 1060 or through the All-Access player on thesundevils.com. Wednesday's game against New Mexico can be heard on Blaze Radio. Fans can also follow the team on Twitter at @ASU_Baseball for live scoring and updates from the weekend, and check thesundevils.com for stats, notes and more.
Game Notes: Coach Esmay is 63-13 all-time against non-conference foes...ASU has not committed an error in five of 13 games this year...LBSU's home run in the fifth inning was the first one allowed by ASU this season...ASU recorded 14 at-bats in the fourth inning...Burr has allowed one run on three hits in 12 innings of relief this season...McDonald leads the team with 13 RBI after collecting four this series.
Copyright 2013 CBS 5 (Meredith Corporation). All rights reserved.