CDC: Deadly drug-resistant bacteria spreading
Posted:
Updated: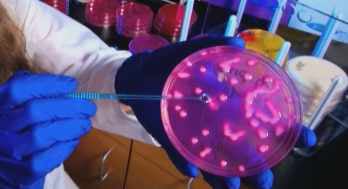 CDC
PHOENIX (CBS5) -
Infections from a group of bacteria called CRE are rising dramatically at hospitals across the nation.
The Centers for Disease Control and Prevention says CRE bacteria have become increasingly resistant to antibiotics over the past decade, leaving infected patients no good treatment options.
So far, 42 states have reported CRE infections. Arizona health officials are still working to identify the types of CRE locally.
"We know that these infections are very lethal," said Dr. Arjun Srinivasan of the Centers for Disease Control & Prevention. "Among the patients who get serious infections with the CRE bacteria, they get them in their bloodstream for example, roughly half of those patients may die."
The CDC says during the first half of last year, almost 200 healthcare facilities treated at least one infected patient. The people who are most at risk are patients in intensive care or those receiving chemotherapy or organ transplants.
CRE infections are still relatively uncommon. But the CDC says hospitals need to act now to prevent the problem from getting bigger.
"It's careful attention to washing your hands, using alcohol-based hand sanitizer, wearing gowns and gloves when you are caring for these patients, cleaning equipment carefully," Srinivasan said.
Health experts say identifying which patients have the bacteria and making sure healthcare workers don't inadvertently spread it from patient to patient are two key steps to take.
Copyright 2013 CBS 5 (KPHO Broadcasting Corporation). All rights reserved.